This article is more than 1 year old
Virgin Media TV Powered by TiVo
Sky+ killer in the making?
Customisable WishLists are also worth setting up because TiVo can constantly scour listings for shows that match chosen keywords, genres, cast, directors or combinations of the above.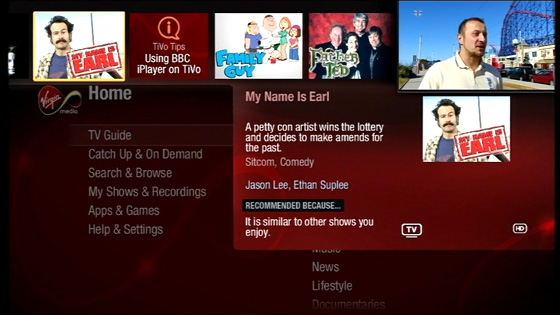 The Home screen's Discovery Bar is one of the places where TiVo suggests other shows
It has three active tuners, so it can record up to three overlapping programmes, or two if you're watching live TV as well. It buffers live TV on all available tuners, enabling you to pause or rewind up to three current channels and hop to and fro between them, which is pretty mind boggling at first.
The sleek, tapered box has no front panel display, just basic controls and status LEDs. Each tuner has an indicator that lights when one, two or three programmes are recording. There's even a fourth tuner LED here – could there be hidden hardware waiting to be enabled?
The Home page has a rather intrusive 'Discovery Bar' which Virgin uses to flag up shows, seasons or other content. You have some control over what's shown here and it alters as you make more recordings or rate programmes, but you can't remove it from this menu.
Series Links will also find upcoming alternative showings in case of overlaps or clashes. It remembers links when series are off-air to catch them on their return. However, if you want to track things that may move channel or haven't appeared yet, use WishLists. If a series you like changes channel, TiVo should also find it with its suggestions if it's doing its job.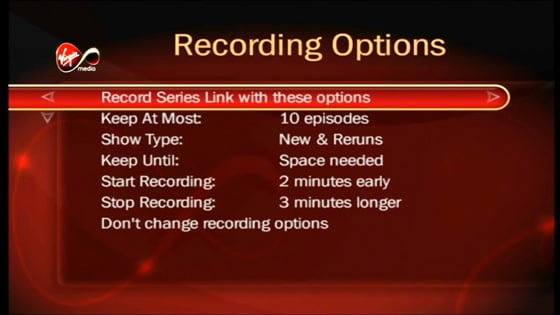 Fine control over how each series is recorded
Series Links and WishLists can be prioritised, so you can favour more essential broadcasts, especially if they have fewer (if any) repeat showings. TiVo can catch repeats later but you should check its planned recordings and fix any obvious oversights.