This article is more than 1 year old
Virgin Media TV Powered by TiVo
Sky+ killer in the making?
TiVo users can set one-off or regular recordings remotely using Virgin Media's on-line TV guide. It works like Sky's Remote Record, except there's no dedicated mobile app (that's promised soon).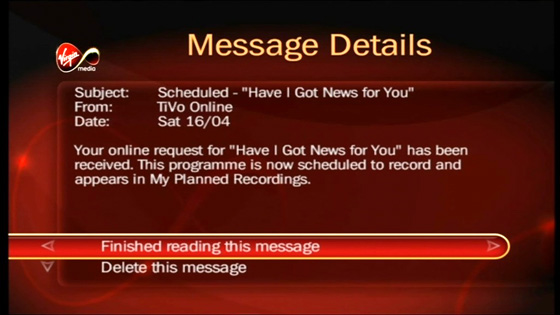 You can set recordings on-line, confirmed on the box by an alert message
The box has dormant USB and Ethernet connections, so there are various future options. The most imminent are probably media streaming from a DLNA server and playing recordings to a second-room receiver – but only if it's Virgin's Cisco-made V-HD zapper box.
An obvious downside is that this new UK TiVo is exclusive to Virgin and if you're not in a cabled area, there's little you can do except relocate or wait for the fibre-optic network to expand, which it might one day.
It's open to question whether TiVo can now truly offer something that you can't do with careful use of webtools such as Locate TV or Sky's Never Miss. Its suggested recordings can be interesting but you might find they range from the irrelevant – particularly in the early days – to the obvious (I set Doctor Who to record and got ITV's Primeval too). And if you have an eclectic taste or a large household, you could get all manner of things.
When it first appeared, TiVo was well ahead of its time. UK viewers can now have a TiVo suited for video-on-demand and HD, in addition to its many other assets, but there are rough edges that need sorting, such as the fragmented TV catch-up situation and the over zealous PIN protection that, at the time of writing, can't be deactivated.