This article is more than 1 year old
Virgin Media TV Powered by TiVo
Sky+ killer in the making?
Virgin has a TiVo user's forum and the company seems to be taking note of feedback for its software updates over the coming months. Perhaps inevitably with a first-gen version, there are glitches.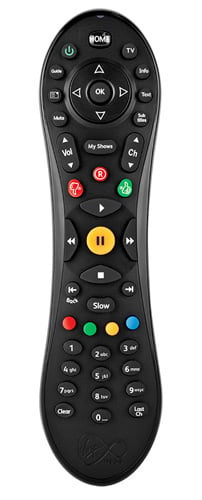 Pleasant 'peanut' shaped remote, worth one or two thumbs up
An early batch had reportedly faulty hardware and some people say the TiVo's SD quality looks too soft. This may also depend on the broadcast, the TV being used and the eye of the beholder. Compared to my Sky box, it's about the same; compared to the V+HD, the upscaling isn't quite as crisp, but to me this isn't a deal breaker given the increasing number of HD programmes and the 1TB storage.
Verdict
Overall, it's an impressive and promising (re)start. While some people may prefer the familiar simplicity of Sky+, others will welcome this smart recorder with open arms – and thumbs resoundingly up. ®
More DVR Reviews

TVonics
DTR-Z500HD
Icecrypt
T2400
TVonics
DTR-HD500
Humax
HDR-Fox
T2
BT vs
Sky vs
Virgin

Virgin Media TV Powered by TiVo
HD video recorder for Virgin Media with three cable TV tuners and up to 1TB hard disk storage.
Price:
£199 or from £49.95 for 500GB + installation, activation and subs fee RRP