Ballmer: Time up for 'stuck in the past' Microsoft CEO?
Skype was not the answer
Analysis A billionaire hedge fund manager is calling for Microsoft's chief executive Steve Ballmer's head. Could it be that the irascible Redmond kingpin's reign is finally drawing to a close?
David Einhorn, president of the $5bn Greenlight Capital group, has reportedly told a conference that Ballmer's "stuck in the past" and should give somebody else a chance at the top.
The moneyman's complaint is the standard grousing about the under performance of Microsoft's stock, which has hovered stubbornly around the $25-mark for a decade – the entirety of Ballmer's reign as CEO, who took over from Bill Gates in January 2000.
According to Reuters, here, Einhorn told the Ira Sohn conference in New York on Wednesday: "His [Ballmer's] continued presence is the biggest overhang on Microsoft's stock."
While the source of the whining is not new, the timing is significant, proceeding the biggest acquisition in Microsoft's history: $8.5bn in cash - not stock - for loss maker Skype.
Counter to what you might suspect, and what Ballmer might have hoped from a deal of such magnitude, Skype gave Microsoft's stock price absolutely no boost in value. That meant Einhorn's colleagues didn't see the deal the same way Ballmer did or buy his justification. Ballmer reckons Microsoft can sell more ads using Bing against Skype.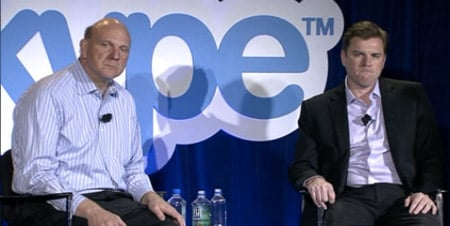 Smiles and handshakes all 'round, not: Ballmer and Skype CEO announce mega buy
Ironically, Wall St has been frantically calling on Ballmer to buy somebody (anybody) for years. Truth is, Microsoft has been buying – just not making the kind of mega deals investors hoped would move the needle on Microsoft's stock and take Microsoft in a fresh direction away from the PC.
Microsoft is a money spinner, thanks to Windows and Office but its online business remains anchored firmly under water despite billions of dollars being showered up on it from above.
The Online Services Division, home to Bing, chalked up its latest loss during Microsoft's third-quarter: $726,000. Bing, meanwhile, has received billions of dollars in expanded R&D for more than two years with little tangible result: Microsoft's share of the search market has expanded from eight to 13 per cent, but this has been greatly helped by an agreement to become the search engine underneath Yahoo!'s properties. Google's market share remains relatively untroubled by Microsoft's efforts. Google is on 65 per cent.
What makes Einhorn's comment unique is that he's the first investor to zero in on Ballmer rather than express general frustration with the performance of Microsoft's stock.