Analysis NASA has declared that its pork-tastic Orion moonship – whose primary mission disappeared with President Obama's decision that there will be no manned US return to the Moon – is now to be a "deep space transportation system", suggesting that the agency plans to send it on missions beyond Earth orbit.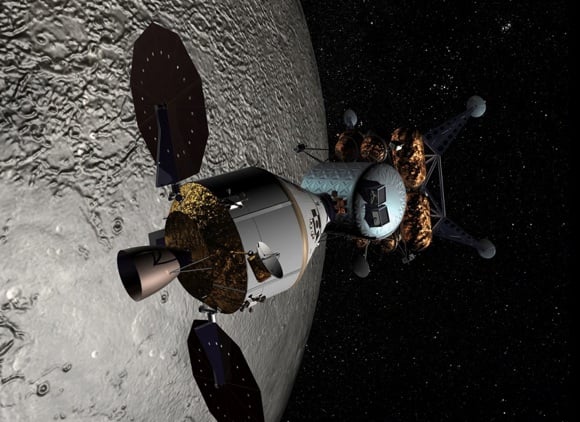 Well, this isn't happening any more.
It remains unclear how the newly-renamed Multi Purpose Crew Vehicle (MPCV) will travel into space, when it will do so and what its destination might be – though a near-Earth asteroid is a likely possibility. A major reason for Orion's continued survival appears to be ignoble porkbarrel politics – but there is a tantalising possibility that it might fly beyond Earth orbit in the relatively near future.
The history of Orion stretches back to 2004. The Orion Crew Exploration Vehicle was conceived as part of the "Constellation" plans envisioned under the previous Bush administration. These would have seen NASA allied with the established US defence-aerospace industry to mount an ambitious manned Moon-return/Moonbase programme, seen as a precursor effort which would build manned beyond-low-orbit expertise and hardware to be used in an eventual Mars mission.
Under Constellation, not only Orion but an Altair moon lander would have been built. Ares I person-carrying and massive Ares V cargo-only rocket stacks would also have appeared, using technology developed under the Shuttle and Apollo programmes and delivered by traditional cooperative efforts involving large workforces both at NASA and the aerospace majors.
The problem with Constellation was that it was terrifically expensive and NASA's manned-space budget – even on the basis that there would be a gap between cessation of Shuttle flights and commencement of Ares/Orion ones – could not cover it. Congress declined to provide a budget boost of the sort which President Kennedy had managed to obtain for the previous Apollo moon programme.
This led President Obama to institute a review process on taking office, following which almost all of Constellation was axed. The first task which had been foreseen for early Ares/Orion missions – that of carrying supplies and ferrying crews to the International Space Station – was handed off instead to new commercially-built ships (and even rockets) which would be produced without major involvement by NASA – and perhaps without any input from the established aerospace firms either.
The question of manned missions beyond Earth orbit was punted into touch, with the President stating that there would be no return to the Moon and that the goal was now Mars – with the prospect of manned missions to Lagrange points and asteroids beyond lunar orbit as stepping stones at some point. A decision on the heavy-lift rocket which would be necessary to assemble Mars missions in Earth orbit was postponed until 2015.
Similar topics