Doing the same with less
Of course, there is one really good reason why existing Flash-based web sites and apps should be tailored to the PlayBook: it's challenging to navigate a site built for a PC-based browser on a 7-inch screen using finger tips that you'd assumed for all these years were really rather dexterous.
So while, no, you don't really need a special NYT or Economist app to read those publications on the PlayBook, not having one makes their sites cramped and difficult to move through. I found just one major news site with a version of their site in App World for the PlayBook: a beta of The Huffington Post that strips out articles and reorients the design for your finger.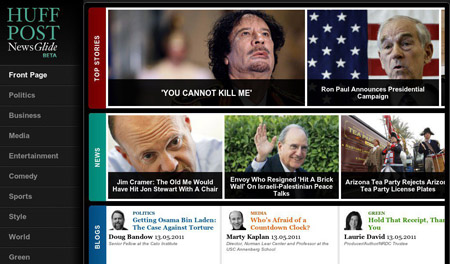 Somebody out there likes me: The Huffington Post built for the PlayBook
Just like a "professional grade" truck must surely need huge shocks, chunky tires, and a really big engine to deserve its title as something the boys on the building site rely on, so must a "professional-grade" tablet targeting the white-collar road warrior super-size its basic features.
RIM is going after the kinds of business users currently ushering the iPad towards enterprise success, bringing their iPads into the boardroom from their living room. Apple has succeeded in part by ensuring that the iPad works with Microsoft's Outlook while more business applications have become available through the App Store – apps such as Salesforce and SugarCRM.
To deserve the title "professional grade" against Apple, the "amateur" according to the logic of RIM's ads, then the PlayBook should do more than just work with the web we know. It needs to provide email, productivity, and business apps, and hardware that's capable of running these and other apps simultaneously - multitasking - and easily, and it must be powered by a battery that's built for some serious long-distance leg work. The PlayBook has the multitasking, so you can play music and surf the web or work on a document, but it falls down on the rest.
The lack of a local email from a company famed for communications on smart phones has been widely reported. On productivity the PlayBook does come with RIM's word, spreadsheet, and presentation documents – Word to Go, Sheet to Go, Slideshow to Go. These are compatible with Microsoft's Office so you can create or import docs, edit them, and they'll retain edits and formatting when you open them again with your regular Office on a PC.
Many features of a full Office suite are missing because of the small screen – as you'd expect. While that's acceptable for Word to Go, Sheet to Go only lets you input data and save. It didn't seem like there was a way to do anything more advanced, like calculations. It was frustrating, too, trying to land on the right field for your data using just a fingertip. A pen and piece of paper is cheaper and less hassle to carry.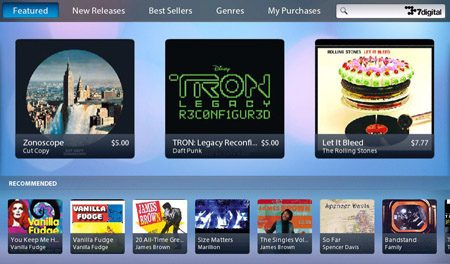 A 7Digital music store makes the PlayBook a playa
Transferring documents between your PlayBook and PC requires the Blackberry Bridge to sync, so RIM is clearly assuming you're either an existing RIM user or have the profile of a soon-to-be RIM customer who'll buy the Bridge. I'm neither, and without scrambling for a thumb drive – there's a USB port in the bottom edge of the PlayBook next to an HDMI port that you can plug in to – I had to email myself documents as attachments via Gmail or Hotmail. Once downloaded to the PlayBook, the documents were marooned because the mobile versions of Gmail and Hotmail on the PlayBook don't let you upload attachments.