Battery sprint finish
The battery was a sprinter not a marathon runner. Twenty-four hours after charging and with the PlayBook only on standby, the battery was dead. Compare that to the iPad's three per cent battery drain after the same time period. Flog the PlayBook for a couple of hours – for me that was an afternoon of surfing, taking photos, downloading and playing games, and editing docs - and the battery was again dead and had to be recharged. Neither are good for the kind of executives who are increasingly taking a single machine on trips – an iPad – and who never know when or where they'll be able to charge up.
Another complaint: the three and five megapixel front- and rear-facing cameras take extremely grainy photos.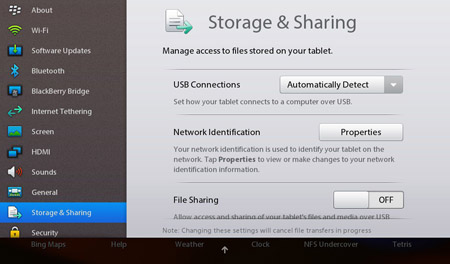 Serious side: setting your PlayBook's system preferences
The PlayBook is RIM's second response to Steve Jobs. RIM started life making a reliable, two-way pager that morphed into a full-on, pocket-sized integrated communications platform that became vital to CEOs and US presidents. The BlackBerry won because it became indispensable: it concentrated phone, text, and web along with email from BlackBerry and non-BlackBerry devices, while synching with companies' Microsoft Exchange and Lotus Notes email systems. It was also reliable.
But RIM started losing its core business users to Jobs's iPhone, and in 2008 it broke the BlackBerry's distinctive design by embracing touch-screen control with the Storm.
Jobs's iPad came out shortly after, and now RIM's firing back at that, too.
This time RIM reckons it's got something that loves apps; the PlayBook's hardware certainly does work well with the software.
All interaction with the software is via the screen and there are no buttons on the outside, except for the On, Play/Pause and volume keys along the top edge. You navigate the screen by swiping your finger: swipe up and you get application icons, down it's system preferences, across you scroll through a carousel of any applications you've opened.
You tap an icon to open an application, swipe your finger up from the black border that surrounds the screen to get out of an application – incorporating the border took some getting used to – and you close an app by tapping an "X" in a small, grey bar just beneath the app in your carousel.
HD video on the PlayBook, meanwhile, is delicious: sharp images with rich and bright colors, while the PlayBook supports the specs and technologies you've come to expect: H.264, MPEG4, WMV HDMI video.
It's all very polished and distinctive, but is this "professional grade"?
Control of the software is important when striving for this level of smoothness. You want to make sure the software works well, that it is accelerated by the dual-core chip architecture underneath, and you want to deliver an interface and "experience" that is different enough to the competition while still being familiar for users.
RIM has asserted control of the engineering and hardware in its tablet by buying the QNX microkernel that makes up the operating system. By owning the microkernel under the apps, RIM is in a position to drive the roadmap and engineering.
That's unlike Dell or Motorola, pushing their own tablets. Dell's Stream and Motorola's Xoom use Google's Android – a platform that, like Apple's iOS, is stealing smartphone users from RIM. Dell and Motorola will rely on Google to set the big Android roadmap, and then customize to try to ensure their machines "experiences" do not look like each others'.
However, RIM is not alone in having taken charge and of not simply buying into the Android collective wisdom: HP bought Palm for webOS, going into the forthcoming TouchPad. HP has now started bragging that the TouchPad will become "better than number one" because it will out-innovate everybody else.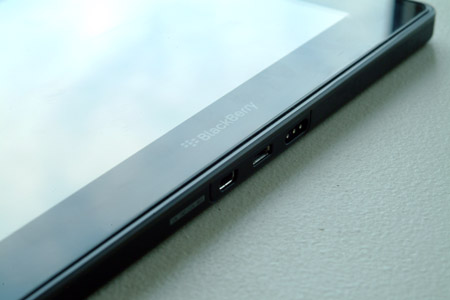 Brand buy-in: RIM emphasizes the PlayBook's BlackBerry brand heritage
The PlayBook is a nice tablet that's got the basics nailed – it's slender, has multi-touch input, the screen reorientates, it has a soft keyboard, there's web browsing, and it comes with music and video players.
Does this make the PlayBook "professional grade". No, that makes it a tablet and means RIM must do a lot more work. RIM sold just 250,000 PlayBook units in its first four weeks compared one million a month for the "amateur" iPad when it launched.
And for all the PlayBook's features and faults, the 16GB version is actually $100 more expensive than the equivalent iPad from a company that Microsoft loves to remind us levies a "tax" on shoppers because its PCs are more expensive than Windows machines.
In this case, RIM's the taxman and he's charging for the BlackBerry brand not the PlayBook's value; a machine that in some ways is on a par with the machine it's trying to beat and that, in others, is worse.
Does the PlayBook provide a potential escape route to Jobs' vision of the web? Without a doubt. Is it "professional grade"? Not yet. Can it ever be? If RIM believes in putting actual meaning behind those two words, then yes. ®