This article is more than 1 year old
Ten... DAB kitchen radios
For what we are about to receive...
Product Round-up A kitchen is incomplete without a radio. Like a garden without a blade of grass, a song without emotion, or a footballer without a super-injuction, there are many without, but it just isn't the same. And even though dates for the proposed digital switchover haven't been set in stone, there's no harm in being prepared. Indeed, as Radio Ga Ga becomes Lady GaGa, it's surely time to upgrade from that grease-gunged FM box.
Gathered here are ten DAB radios suited to kitchen use. You may have your doubts about DAB, but it does have some neat features and is a complete no-brainer to use. When stuffing your marrows, anything more than a quick fiddle of a knob, just isn't practical, really.
Checking signal was always going to be a tricky task, after all Vulture Central is in the heart of London, but we pushed them to their limit by testing in Reg Hardware's isolation cell. If signal was going to stumble somewhere, it would be in there. DAB radios seem to hark back to the days of valve sets as they take a while to start. The longest to chime took just over six seconds with the rest chirping in around four.
Dualit DAB Kitchen

Dualit, famed for breakfast appliances, also makes this über cool DAB kitchen radio to provide the daily dose of morning music. The company even threw in an egg timer for good measure.
Easy to use, the device features two dials, one for volume and one for waveband selection. There are five presets for each mode and when the signal is lost or patchy on some distant station, rather than delivering a warbly broadcast, the Dualit goes mute. That said, it picked up most stations with ease.
I was left very impressed by the audio, delivered through its 4in mono speaker. Even at full volume, the distortion is barely audible, with the overall sound enhanced by its warm bottom end, courtesy of a built-in bassport for that extra oomph.
The large display shows information in a calculator-style text, which rather lacks finesse. Moreover, the design itself – encased in aluminium – may look the part, but would be an OCD sufferer's nightmare. Don't let the kids near this one after some jammy toast. Keep it clean, though, and you've got yourself a kitchen mirror too.
It also features a built-in NiMH battery, which recharges fully in 16 hours, lasts about 4 hours when pumping out DAB and roughly double that for FM. As for interfacing there's an aux in, speaker and headphone output, but an optical digital out too. Random eh? It may have its flaws, no DAB+ for one and it's pricey too, but the Dualit DAB radio remains a well-constructed bit of kit that, if you have the cash to splash, is definitely one to consider.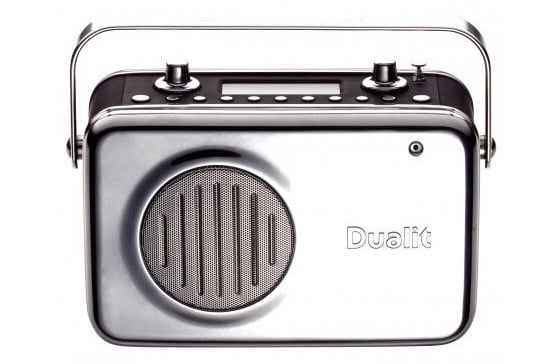 Reg Rating 85%
Price £180
Services DAB, FM
More info Dualit
Logik L55DAB10

Those on a budget, who find themselves looking for bargains in Dixons, Currys or PC World, will come face to face with dozens of inexpensive tech sporting the company's own brands; Logik and Sandstrom. While some would say these brands remain popular among those who don't know any better, is it really a fair reflection of the product?
First impressions certainly veer that way here, as I am immediately hit by a smell of MDF, courtesy of the Logik's cheap wooden casing. There is a hint of Ikea-like subtlety that would look well placed in any modern kitchen, but upon closer inspection, the build does look rushed.
This isn't the only thing that comes across shoddy, though. Signal left much to be desired, especially when tuning into FM stations, and despite having two 1.6W speakers, high volumes generate high distortion. The Logik may have quite an ear-piercing top volume, but listening to undistorted music over the whirr of a washing machine is likely to be a struggle.
Controls could be easier too. A single dial means you'll have to push buttons before turning it to change station and with just one preset button, skipping through your favourite channels could be more convenient.
Still, you can pick one of these up for the same price as a few bottles of wine and, if need be, can power it with four AA batteries. Plus you can set dual alarms, a very helpful feature when knocking up that fab three-course. See, it's not all bad, but you do get what you pay for.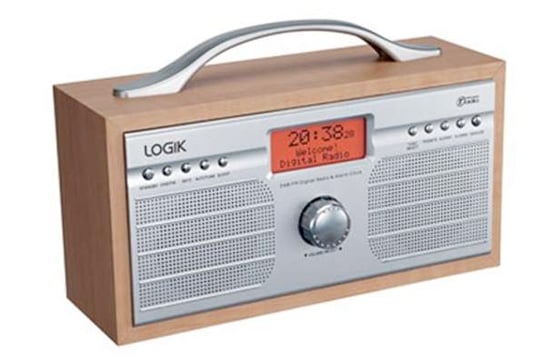 Reg Rating 55%
Price £40
Services DAB, FM
More info Dixons