Open...and Shut For those who believe software is a quick road to riches, think again.
As RedMonk analyst Stephen O'Grady detailed in his Open Source Business Conference keynote, the top 20 software companies are relatively low on Fortune 500's totem pole of revenue, and not a single one lands in the top 10. And of the top 20 companies on PwC's list of the top 100 software companies, not a single one of the top 20 has been founded in the last 22 years. Their average age? 47 years.
What this means is that if you want to make a boatload of money in software, be prepared to spend decades getting big enough to catch the world's attention. What the data also suggest, however, is that there are far better ways to make money than through software.
Like data. Or, really, anything else.
Certainly not open source, as O'Grady points out. Open source may be great for lowering costs for users, but "open source software vendors are universally poor at customer conversion." This is perhaps why Wall Street puts such a tiny premium on even the best open source vendor, Red Hat, compared to data-centric companies of a more recent vintage: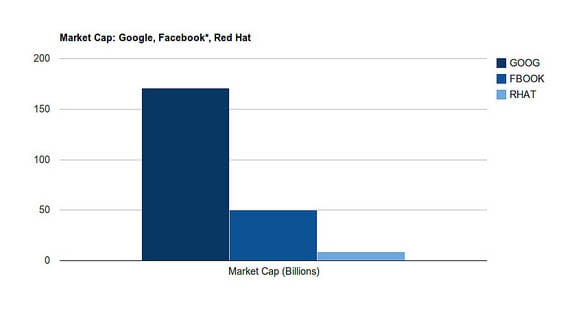 Google's market capitalization versus that of Facebook and Red Hat: no contest
It's also why O'Grady concludes, "[T]hose startups that wish to get big, in the Apple sense if not the Exxon, should begin leveraging collected data as a complementary revenue stream. ... The Age of Software was fun. Welcome to the Age of Data."
What does this mean, exactly?
At the most basic level, it means the categorization of our companies as "software companies" should be problematic – Google, Twitter, Foursquare, etc. While we may want to peg these as software companies, given how much software they write, they're clearly not software companies. Or even technology companies. If we're clearly in the business of peddling software, we're probably doing something wrong.
37Signals offers a great example of how to step away from software to become something more. David Heinemeier Hansson originally developed Ruby on Rails for internal 37Signals use, then open sourced it. Had 37Signals followed in the footsteps of MySQL, JBoss, and Red Hat, it would have somehow offered support or other services for Ruby on Rails deployments.
But it didn't. It built Basecamp and offered subscriptions to this project management service.
This still arguably makes it a software business, but it's a step in the direction O'Grady prescribes. A step toward data. Toward software-generated services that focus the vendor and customer on the resultant data.
We sometimes derisively declare that "if you're not paying for something, you're not the customer; you're the product being sold." For those looking to build a great data-driven business, the key is to find lots of users, users who in turn generate data through that usage.
The reason that Twitter, Facebook, Google, and other data-driven businesses succeed is, first, because they have managed to corral armies of users generating data on who and what they like, what they're interested in buying, what they talk about, etc. Second, they're valuable because they have found ways to mine and monetize that data. Those that show the most promising business models around data, like Google and Facebook, command the highest premiums.
Data-driven businesses aren't about selling Business Intelligence tools, as IBM does, that help others mine and analyze data. It's not even about collecting data and using it to sell something else. It's about putting data front-and-center in one's business. Indeed, it's about making data one's business.
This is where the near-term, multibillion-dollar opportunities are. Not software. Not even software as a service (SaaS). But rather data. Lots of data. ®
Matt Asay is senior vice president of business development at Strobe, a startup that offers an open source framework for building mobile apps. He was formerly chief operating officer of Ubuntu commercial operation Canonical. With more than a decade spent in open source, Asay served as Alfreso's general manager for the Americas and vice president of business development, and he helped put Novell on its open source track. Asay is an emeritus board member of the Open Source Initiative (OSI). His column, Open...and Shut, appears twice a week on The Register.
Similar topics