This article is more than 1 year old
Android app sales skimpy, sluggish, slack, scanty...
Want profits? Build iPhone apps
Android-based smartphones may have passed the iPhone in terms of market share, but developers of Android apps aren't profiting from that rise. iPhone users buy far more apps.
"It is more challenging for developers in the Google Android Market than in the Apple App Store to monetize using a one-off fee monetization model," reads a report issued Friday by the app-watchers at Distimo.
Distimo's numbers put an empirical foundation under what Google's Android platform manager told Forbes earlier this year: that Mountain View is "not happy" with the low rate of paid-app sales in the Android Market.
Overall, iPhone apps have a crushing sales advantage over Android apps. Since the Android Market opened, only two paid apps have been downloaded more than a half-million times. In just the last two months, six paid apps in the App Store achieved that milestone.
As Distimo correctly surmises from that data: "The possibility [of] generating over 500,000 paid downloads is a real possibility for more applications in the Apple App Store than in the Google Android Market."
Paid games are also far more popular on the iPhone than on Android phones. In March and April, five games in the Android Market hit the quarter million–download mark – and that was worldwide. Over in the iPhone App Store, that same sales figure was reached by 10 paid games in the US alone.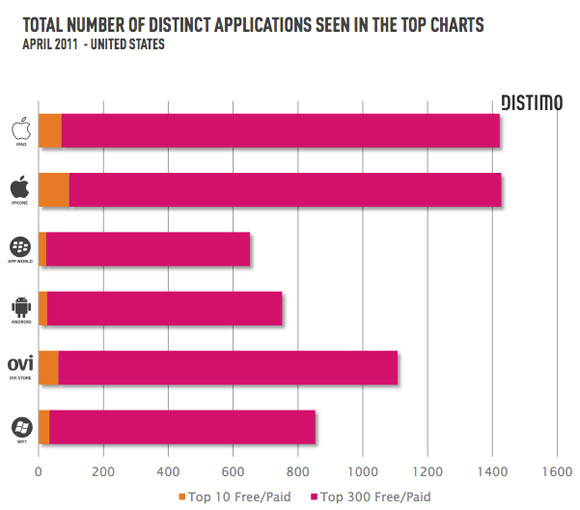 Even Nokia's Ovi Store and the Windows Phone 7 Marketplace promote more apps than the Android Marketplace
One major reason for the success of iPhone apps, Distimo suggests, is that Apple's App Store moves more apps through their "Top Charts" for both paid and free apps than does the Android Market. The more apps that are brought to users' attention in this way, the more apps they'll buy. "Being visible in the top charts is very important for generating more downloads," Distimo explains, understatedly.
The difference in top-app exposure is striking. In April, the Apple App Store promoted 94 apps to their top 10 free and paid apps, while Google rotated only 26 apps into that highly visible position in the Android Market.
The difference between the top 300 apps in both app stores was also stark: Apple gave 843 free and 584 paid apps that status during April, while Google honored only 388 and 363, respectively.
Google recently revamped how it promotes apps in the Android Marketplace to improve the visibility of both paid and free apps. "Perhaps these, and future changes, will provide a higher probability for success for a larger proportion of the applications in the Google Android Market," Distimo says, proffering a bit of hope to Android devs.
Developers are pouring apps into the Android Market at such a rate that Distimo predicted in a prior report that the number of apps in Google's app store would surpass Apple's offerings by this fall. Whether those devs will make a decent living from that effort remains to be seen.
You can download a copy of Distimo's full report here (free registration required). ®