This article is more than 1 year old
Daleks given a well-earned break
Off to put their feet up, says Steven Moffat
Doctor Who exec producer Steven Moffat has announced the Daleks are taking a well-earned break, and will be spared yet another confrontation with their Time Lord arch enemy for the foreseeable future.
Speaking to Radio Times, Moffat said: "They aren't going to make an appearance for a while. We thought it was about time to give them a rest."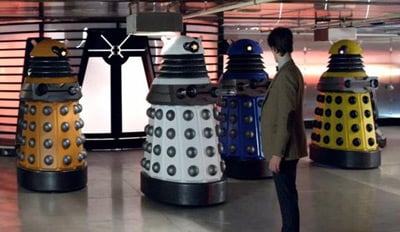 He added: "They are the most famous of the Doctor's adversaries and the most frequent, which means they are the most reliably defeatable enemies in the universe.
"They have been defeated by the Doctor about 400 times. Surely they see the Tardis approaching, say, 'Oh. It's him again' – and trudge away."
The Doctor last battled the spawn of Skaro in 2010's Victory of the Daleks (see pic), and traditionalist fans weren't much impressed with the latest manifestation of the trundling pepper pots. Moffat defended: "It's all-new Doctor Who. Let's change the Daleks too. We wanted them bigger and more colourful and we wanted more of them."
The producer has also been obliged to defend the latest Who series against claims it's just too behind-the-sofa for kids. He said: "It is horror, but horror for children. It's scary in the way that a fairy story can be scary." ®