Opera extends Speed Dial with Swordfish beta
Thumbnails evolve
---
Opera has released a new beta of its desktop browser, adding "extensions" to the Speed Dial page that appears each time you open a new browser tab.
With the current stable version of Opera – version 11.10 – the Speed Dial page merely offers thumbnail links to off-visited webpages. With the new beta of version 11.50, you can create extensions – mini-apps – that live on this page, providing real-time access to web content. Opera, for instance, has created an extension that serves up the current weather forecast.
The new beta is available here, and documentation for building your own SpeedDial extensions is available here.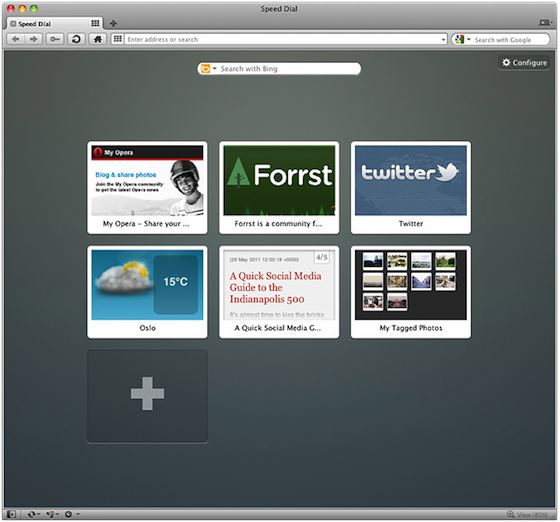 Speed Dial extensions
Codenamed Swordfish, the 11.50 beta also lets you synchronize your web passwords across multiple Opera browsers via the company's Opera Link service. Linking Opera browsers you're running across disparate devices, Opera Link synchronizes bookmarks, Speed Dial, search engine preferences, notes, and browser history as well.
You can test the Swordfish beta through Opera Next, which lets you run Opera betas in tandem with the latest stable version of the browser. Once you download Opera Next, you will automatically receive the latest beta. ®
Similar topics
Broader topics