3D printer produces working house keys
Bolt from the blueprint
3D printing tools have been used to roll out working house keys, meaning trips to the hardware store could soon be replaced by a straightforward PC set-up.
Apple software engineer Nirav Patel generates a key's blueprint with the manufacturer's lock code, which contains all the relevant bit dimensions. This information is fed into OpenSCAD, a program for creating solid objects, and finally churned out through his RepRap 3D printer.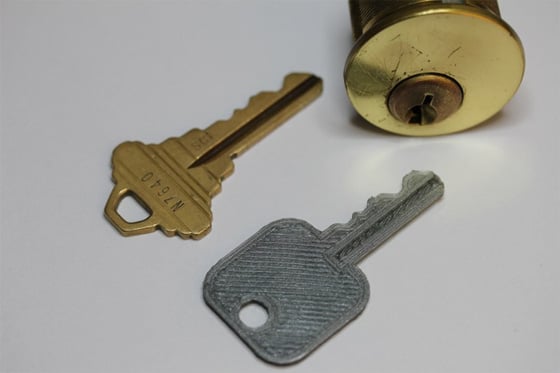 Okay, they can be on the fragile side - you don't want to risk snapping a plastic key in your lock - but Patel claims they're strong enough to turn a deadbolt, so don't close the door on the idea just yet.
Patel even suggests the system could be used in conjunction with Sneakey, a tool for teleduplication through optical decoding. In other words, creating replicas simply from a photograph.
Sneakey describes itself as able to covertly steal keys without fear of detection. No doubt the company has an interesting range of clients. ®