This article is more than 1 year old
Space shuttle Endeavour: 'An incredible ship'
25 missions and 122 million miles for 'amazing vehicle'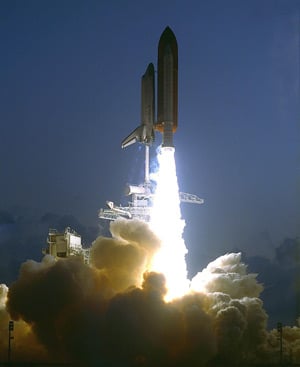 Named in honour of the ship which in 1768 carried captain James Cook and his crew to the South Pacific, Endeavour first launched on 7 May 1992 (see pic) when it headed off on its STS-49 mission to capture, repair and return to orbit an Intelsat satellite.
On its next trip, in September of the same year, the shuttle carried a manned Spacelab module, as well as "the first Japanese astronaut to fly aboard the shuttle (Mamoru Mohri), the first African-American woman to fly in space (Mae Jemison) and the first married couple to fly on the same space mission (Mark Lee and Jan Davis)".
In December 1993, Endeavour embarked on "one of most challenging and complex manned missions ever attempted" – the first Hubble Space Telescope servicing mission, featuring "a record five back-to-back space walks totaling 35 hours and 28 minutes".