El Reg pays by phone – mmmm, free cookies!
Slow tap dance for UK's first contactless payments
---
Not waving but buying
The transaction itself was instant, the screen shown popping up next time we went into the Quick Tap application. Sadly the transaction didn't appear anywhere else – "recent transactions" still shows nothing and our remaining balance shows no money has been spent, despite the fact that we've eaten the cookies.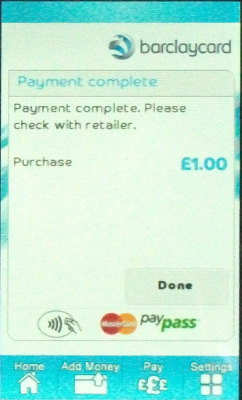 Next time will be much quicker, for us and the staff.
Paying for things works really smoothly, but the supporting services – both registration and management – clearly need a lot of work. The Tocco isn't responsive enough to show off the applications, which themselves suffer from the J2ME platform on which they run. NFC payments are more likely to appeal to the kind of early adopters wielding Android and iOS handsets, but with only two Android handsets supporting NFC (the Nexus S and Galaxy S II) it is not mainstream enough for Orange to support – yet.
Concerns about security will also dog deployment, and despite the enormously complicated registration process, the credit card is still only protected by a four-digit PIN.
A thief can use your charged-up credit without being challenged – each transaction can be up to £15 and there isn't a limit on the number of transactions. Once that balance is exhausted the thief will get three guesses at the PIN, and will be able to transfer money from the credit card if the PIN is guessed.
Barclaycard will provide a tenner of additional credit for those prepared to adopt early, but it is notable that the Quick Tap application has plenty of space for other payment systems to be added (with one being identified as the "default" payment system so one can tap and pay without selecting a card).
It will be a few months before anyone else commits to using the system, and we're not convinced the infrastructure is quite ready yet despite the point-of-sale process working so well. Proximity payments from phones will happen, and Quick Tap is the first in the UK, but like most first movers it's more than a little rough around the edges. ®