Review Thinking of upgrading your PC's speakers or just want a low cost surround sound set up for use with a TV and games console? Then Logitech might have what you're after with the Z906, the follow up to the company's popular Z-5500 system.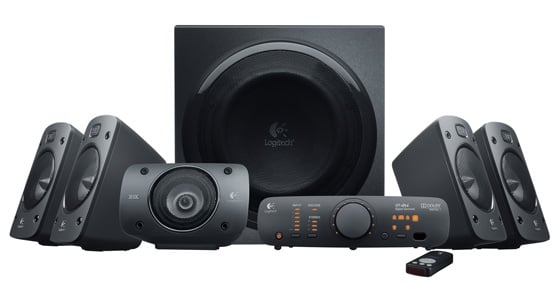 Making connections: Logitech's Z906
The Z906 is a THX-certified 5.1 set up that includes a built-in decoder and has a number of inputs on the rear, so it can be used with a variety of devices ranging from PCs and games consoles, to portable MP3 players and digital TV set-top boxes.
The four satellite speakers and centre channel look pretty menacing as they peer out from behind metal grilles, while the subwoofer is powered and also houses the various speaker terminals.
Around the back of the sub you'll also find three mini jack analogue inputs for connecting it up to the surround sound outputs found on most PC soundcards. Below these, there's also a pair of optical inputs, a pair of stereo phono connectors and a coax digital input.
So, in total you can have up to five devices connected to the system at any one time and switch between them using either the input selectors on the main control unit or a button on the remote.

Interfacing on the sub back panel features plenty of connectivity options but, alas, no HDMI
The control unit connects to the subwoofer with the review unit supplied with a 2.5m long cable, so you can position it on a desktop or entertainment unit away from the rest of the system. It doesn't have an LCD display, but instead uses little LEDs to indicate what's being adjusted or what mode it's in. Unfortunately these LEDs are quite bright and there's no way to dim them, so they can be a little bit distracting if you're watching a movie with the lights turned down low.