This article is more than 1 year old
HTC Sensation dual core Android smartphone
Twin-engined talker
Making Sense
With Android 2.3 Gingerbread on-board, the Sensation runs the latest 3.0 version of HTC's Sense user interface on top. Lovely as it is, you get the feeling that it really needs that extra CPU grunt to the make the best of it. There are all sorts of graphics and animations running, like the 3D cube effect when you swipe between home screens, and the increasingly detailed weather widget, all of which use processing power which could easily trip up a less powerful device.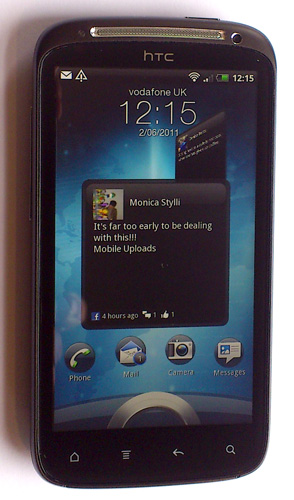 Friendstream
Vodafone has made little attempt to customise the Sensation, though there are a couple of shortcuts for the 360 Shop and the Music Shop. Irritatingly and somewhat predictably, neither will work using a Wi-Fi connection, and when you get there, it has to be said, there isn't really a great deal to detain you. There's some pay TV and a very limited range of games, though there are a few options in the Music Store, with Lady GaGa's new album on offer for a quid less than iTunes.
All the HTC Sense widgets and functionality are back, but now there's also a customisable lock screen, so your phone can show you info widgets even when you're not really using it. You can set it to display your FriendStream social networking widget, that lovely weather widget, stocks news, your photo gallery or the time. You can also set it to open any of your shortcuts automatically when you unlock the screen, by pulling an icon from the home page into the lock ring at the bottom of the screen.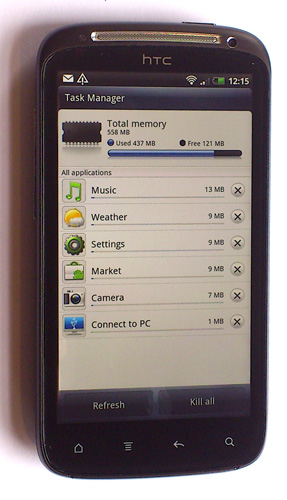 Task Manager nitty gritty
The Sensation also includes HTC's new video store, Watch, which offers downloads of films and TV shows. It's not too well stocked yet, and films seem to average £9.99 to buy or £3.49 to rent, though older films are a bit cheaper. It's not particularly cheap, but it is convenient.
Movies do look very good on that big, sharp screen. You can even get away with playing them without headphones since the loudspeaker isn't bad, especially with its pseudo surround enhancement switched on – though the effect would have been better with stereo speakers. You can also share your videos with up to five other HTC devices and there was nothing wrong with the call quality, which was clear and intelligible at all times.