This article is more than 1 year old
Panasonic SC-BTT775 Blu-ray 5.1 home theatre
Let me entertain you
Review A Blu-ray-in-a-box surround sound system is always going to be a bit of a compromise – you shouldn't expect the ultimate in audio quality, but you do get the convenience of having the whole kit and caboodle configuration. In the case of Panasonic's SC-BTT775, you get a good range of features too, with 5.1 sound backed by a built-in 1,000W amplifier, 1080p upscaling, 3D Blu-ray disc compatibility and a slide-out iPod dock.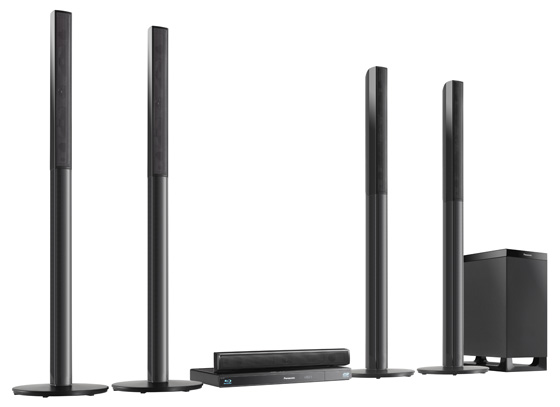 Home entertainment kit: Panasonic's SC-BTT775
The set-up consists of a Blu-ray player with built-in amp, a subwoofer and five slimline speakers which you'll need to screw together. The 102cm high tower speakers are lightweight but also feel very flimsy, as does the subwoofer. Still, the large circular feet ensures they're reasonably stable and the thinness helps them to blend into the background, despite having a jet black finish.
There's evidence of budget clipping with the centre speaker, which features the same wiring grooves at the back for connection to the speaker stands, even though they're unnecessary for the centre channel driver.
Wiring for the speakers uses Panasonic's idiot-proof colour coding to make sure you plug the correct wires into the amp at the back. Also at the back of the slimline player/amp are three HDMI slots – one out, two in – for running games consoles or media streamers through the SC-BTT775. You get Ethernet too, for internet use with BD-Live, USB for Panasonic's Skype camera, optical in, RCA phono analogue audio in and video out.

Blu-ray with all the trimmings
Flip down the front panel reveals the disc tray as well as SDXC memory card reader plus another USB slot, with this one functioning with storages devices to provide more ways to get your films on screen. DLNA compatibility on the SC-BTT775 allows you to stream content from your computer from your home network.