Google network and data center chief departs
To interweb place unknown
---
Vijay Gill – who spent three years overseeing Google's famously distributed backend infrastructure – has left the company, according to his LinkedIn profile.
Google did not immediately respond to a request for comment. But Gill's LinkedIn profile indicates he left Google last month, and his current job is listed as "Engineering Director" at "TBD" in "internet industry". On the profile, Gill describes himself as someone who "manage[s] people and enable[s] them to develop, design and operate some of the world's largest IP network and datacenter infrastructures". But it's unclear if he has taken a new job.
Gill was billed as Google's senior manager of production network engineering and architecture, and in this position, according to his LinkedIn profile, he managed "all backbone, datacenter, and related infrastructure". The Google back end now spans nearly 40 custom-built data centers across the globe, all running specialized servers and other specialized hardware and a common set of distributed software platforms. It's sometimes called The Google Network.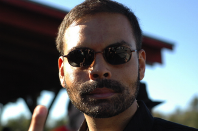 Vijay Gill
Before ascending to the senior manager role, Gill spent two years at Google as a member of its engineering and technical staff, and prior to joining Google, he was the senior technical manager of network infrastructure at AOL. From 2009 to 2010, he was a member of the Internet Architecture Board, serving on the Internet Engineering Task Force.
At Google, Gill was a step below Urs Hölzle, the company's senior vice president of operations and a Google Fellow. Hölzle was among Google's first ten employees, and as its first vice president of engineering, he was the point man as Google first designed its distributed infrastructure.
Google is notoriously tight-lipped about its back end. But in 2009, at a conference in San Francisco, Gill let out a few secrets. Asked if he could "wave a magic wand" and create any bit of kit for Google's backend, he ended up discussing two very real – but previously unknown – Google projects.
"You have to have integration with everything right from the chillers down all the way to the CPU," Gill said. "Sometimes, there's a temperature excursion, and you might want to do a quick load-shedding - a quick load-shedding to prevent a temperature excursion because, hey, you have a data center with no chillers. You want to move some load off. You want to cut some CPUs and some of the processes in RAM."
The implication was that Google was not only running a data center with no chillers, but also that it had developed a means of automatically redistributing loads to other facilities when temperatures spike. "How do you manage the system and optimize it on a global level? That is the interesting part," he continued. "What we've got here [with Google] is massive - like hundreds of thousands of variable linear programming problems that need to run in quasi–real time. When the temperature starts to excurse in a data center, you don't have the luxury of sitting around for a half an hour. ... You have on the order of seconds."
As it turns out, Gill was referring to a chillerless data center Google had recently built in Belgium and a new distributed software platform the company calls Spanner. Google has since built another chillerless data center in Finland, and other web outfits have followed suit, including Facebook and Microsoft.
Though generally reticent to discuss its back end, Google has published research papers on platforms such as the Google File System, Google MapReduce, and BigTable, its distributed data center. The GFS and MapReduce papers gave rise to the open source Apache Hadoop project, which underpins web services at big names across the industry, including Facebook, Twitter, and Yahoo!. Google has also revealed some its (older) server and data center designs.
Earlier this year, Facebook "open sourced" its custom designs and made a clear reference to Google's reluctance to share information about its data centers. "It's time to stop treating data center design like Fight Club and demystify the way these things are built," said Jonathan Heiliger, vice president of technical operations at Facebook.
Facebook did not immediately respond to a request for comment on Vijay Gill's departure from Google. But the company is a possible destination. Google and Facebook have long been locked in a battle over top talent in Silicon Valley, and Facebook just now beginning to create a data center empire along the lines of Google's.
Another possible destination is Apple. Steve Jobs and company are about to open a $1bn data center in western North Carolina, and this past November, the company's data center head, ex-eBay man Olivier Sanche, died of a heart attack.
And then there's Amazon. Or even Microsoft. At that 2009 conference, Gill was critical of Redmond's back end, which doesn't benefit from the the sort of distributed setup used by Google. "Our approach is a little more absolute than [Microsoft's]," Gill said. "Not only does getting to the end user have to be fast, but the back end has to be extremely fast too. ... [We are] virtualizing the entire fabric so you get maximum utilization and speed on a global basis as opposed to local fixes - putting one service in a data center, for example, in Denver.
"You want to figure out how you want to distribute that across the entire system so you get it as horizontal as needed, which is essentially the definition of cloud computing."
After purchasing San Francisco semantic-search startup Powerset in 2008, Microsoft briefly used Hadoop to run a small portion of its Bing search engine, but the company has since scrapped its Hadoop clusters. Hadoop, you see, does not run on Windows. But the company has built a similar but proprietary platform known as Dryad. It's unclear whether this is actually running in live Microsoft data centers. When we asked Microsoft about Gill's departure from Google, the company told us: "Microsoft does not comment on rumors or speculation". ®
Update
It appears that Vijay Gill has moved to Microsoft.
On his blog, Vijay Gill has responded to this article and the one on his move to Microsoft. "I feel that such articles are toxic," he says. "The simplistic approach sensationalizes a few personalities and while it may make for good copy and get pageviews, the actual folks who did the work get no credit and it is wrong. With such a talented pool of folks at Google, enabled by a culture of excellence that starts from the top, anyone could have done a great job, but no one mentions that.
"The work is about the team, the culture of data-driven decisions, fair and firm debate, and a refusal to compromise. Credit should go unto those who deserve it: the incredible teams at the company. My own part if any, was managing to get out of the way of the folks doing the work."