Google network chief jumps to ... Microsoft
Network boffins predict end of Google
---
Update Vijay Gill – the man who oversaw The Google Network – is now at Microsoft, according to sources familiar with his move.
According to Gill's LinkedIn profile, he departed Google last month, and though neither Google nor Microsoft will comment on his departure, sources tell The Register that he has moved to Redmond.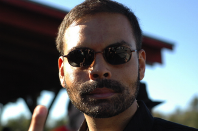 Vijay Gill
Najam Ahmad, Microsoft's former global networking services general manager, has moved to Facebook as the social networking outfit's director of networking, and Gill is apparently stepping into Ahmad's role in Redmond.
At Google, according to his LinkedIn profile, Gill managed "all backbone, datacenter, and related infrastructure". The joke among networking insiders that his departure from Mountain View signals the end of Google. In 2006, Gill stepped down as AOL's senior technical manager of network infrastructure, and the company is now a shell of its former self. Likewise, insiders say, when Gill joined MFN/AboveNet in 2000, it was "the best network on the planet", but since his departure, not so much.
It seems that Microsoft is now in the process of converting its network from the OSPF (Open Shortest Path First) routing protocol to the Intermediate System to Intermediate System (IS-IS) protocol, which one insider calls Gill's "trademark".
In 2009, just after the launch of Microsoft's Bing search engine, Gill shared a stage with Najam Ahmad, then Microsoft's networking guru, at a conference in San Francisco. Gill was somewhat critical of Microsoft's back-end infrastructure. "Our approach is a little more absolute than [Microsoft's]," Gill said. "Not only does getting to the end user have to be fast, but the back end has to be extremely fast too. ... [We are] virtualizing the entire fabric so you get maximum utilization and speed on a global basis as opposed to local fixes - putting one service in a data center, for example, in Denver.
"You want to figure out how you want to distribute that across the entire system so you get it as horizontal as needed, which is essentially the definition of cloud computing." Google's setup, he indicated, provided better performance than Microsoft's approach. And as he mentioned various research papers on the net that would flesh out his arguments, he would make a sly nod to Microsoft's efforts to catch Google's search engine. "If you Bing for it," he would say, "you can find it."
Now, it seems, he drives the network under Microsoft's efforts to catch Google. ®
Update
Vijay Gill has responded to this article on his blog. "I feel that such articles are toxic," he says. "The simplistic approach sensationalizes a few personalities and while it may make for good copy and get pageviews, the actual folks who did the work get no credit and it is wrong. With such a talented pool of folks at Google, enabled by a culture of excellence that starts from the top, anyone could have done a great job, but no one mentions that.
"The work is about the team, the culture of data-driven decisions, fair and firm debate, and a refusal to compromise. Credit should go unto those who deserve it: the incredible teams at the company. My own part if any, was managing to get out of the way of the folks doing the work."