Xbox 360 sales reach Sony-smashing milestone
Microsoft has X-factor in popularity contest
---
Microsoft has revealed it passed the 55m mark for sales of the Xbox 360 console last week, putting it ahead of the PS3 in the overall global sales standing.
In the build-up to industry show E3, the company has highlighted a survey by market watcher NPD which apparently shows the Xbox 360 "change the tail" of a typical console lifespan.
Sales of the console are still on the rise and the first four months of 2011 saw figures up 29 per cent on last year.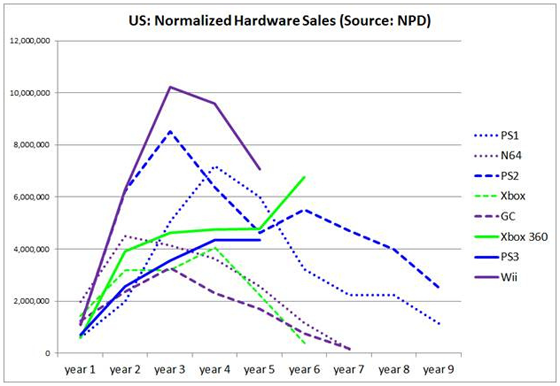 This could in part be down to the launch of Kinect, another big seller. Last month, we heard how the company has cashed-in on more than 10m Kinect systems, along with 10m standalone games.
The Xbox 360 has been the most-purchased console in ten of the past 11 months too, but these figures only tally US sales alone, and we all know where American loyalties lie in the fight for console supremacy.
Predictably, the Japanese market tells a different story, with sales for Microsoft's console lagging considerably behind the local offering. There, figures show PS3 purchases are six times greater, while Nintendo's Wii sets the pace with more than ten times the overall sales.
NPD's latest figures show the Xbox 360 rests in second place in terms of worldwide sales figures.

It will be interesting to see how damaging the past two months have been to Sony's hardware sales, when its latest figures are tallied up. With the PSN network down, there were reports of fed-up customers swapping their PS3s for Xbox 360s.
Has Sony's security breach given Microsoft the upper hand in the war on console supremacy?
Expect more Microsoft gaming news to sprout from the company's pre-E3 conference later today. ®