This article is more than 1 year old
Apple iOS 5 and iCloud examined
We rate the key announcements
Hail or Fail The keynote speech at Apple's Worldwide Developers Conference may have kicked off with a demo of Mac OS X 10.7 Lion that we've seen before - the only real news was its launch date, July, and low price, $30 (£18) - but the iOS 5 and iCloud announcements were packed with juicy details.
It's crucial to look ahead. Many of yesterday's announcements seem to be catch-up manoeuvres, but they reveal on closer inspection the potential to push iOS and iCloud well beyond the competition.
Here's what we think of the key new features.
iMessage
Like the iOS-only, Wi-Fi-only FaceTime, iMessage connects iOS 5 users - and no one else. How many folk you converse with by instant message own an iDevice? Most of mine don't.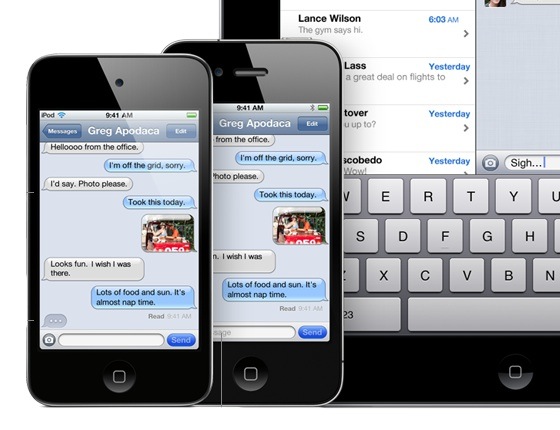 BlackBerry Message, iMessage's nearest alternative, gets used because companies buy BlackBerrys en masse, and colleague messages colleague. Maybe if big business starts buying iPhones too, iMessage will take off, but for most consumers, with pals on a variety of platforms, it's a non-starter.
Verdict Fail
iTunes Match
Or, 'Apple turns the torrents into a money maker for music labels'. iTunes Match may be nominally a way to archive your ripped CDs in the cloud, but it has the potential to do a very nice job monetising peer-to-peer downloads.
You download the new Lady Gaga album from a torrent, but you feel guilty about stealing. So you pay Apple - and through it the labels - $25 (£15) a year to magically convert that download into a legal copy. And likewise all the other albums and songs you pinch.
It's not an all-you-can-eat subscription, but it's close enough. The nominal 20,000-song limit will satisfy anyone who actually spends time listening to music rather than merely hoarding downloads because they can. And Apple's archive of songs is likely to contain almost all popular torrent downloads now that pretty much every release goes straight to iTunes by default.
The question is, do torrenters feel sufficiently guilty to cough up Apple's de facto torrent legalisation subscription? Many won't but a lot will.
Expect iTunes Match to really take off when Apple adds support for all those iffy AVI files...
Verdict Hail