This article is more than 1 year old
Apple iOS 5 and iCloud examined
We rate the key announcements
iOS 5
iOS 5 is a big improvement, and closes some important gaps where the competition has surged ahead. Forget all the "200-odd new features" spin, there a simply some key usage enhancements - a physical camera shutter button, the volume-up key; picture editing; more secure, easier to read Mail; Twitter integration - though why no Facebook, Apple?; over-the-air updates; and, centrally, a new notifications system - that will make this a must-have upgrade.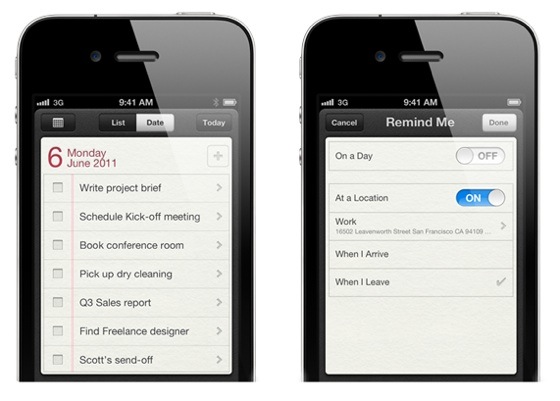 Personal favourites: the splittable virtual keyboard on the iPad, making it much easier to type using your two thumbs, and the location-aware to-do list, Reminders, which has the potential to become a very powerful action trigger tool.
Verdict Hail
iOS 5 Notifications Center
This will be so central to the iOS 5 experience that it warrants separate consideration. It's not merely a less intrusive replacement for iOS 4's modal notification panels, it's Apple's take on UIs like HTC's Sense and even Windows Phone 7. The main notifications readout panel already has weather and stocks displays, and it will surely be extended to become a dynamic status panel to match if not in looks then certainly in functionality WinPho 7's tiles.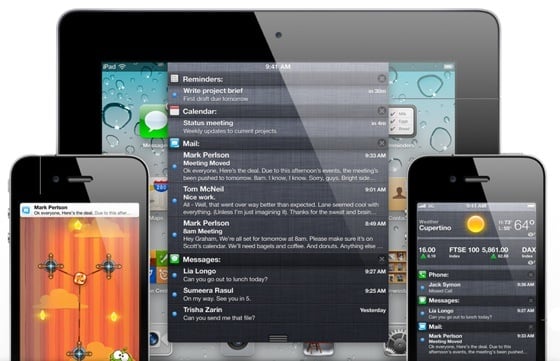 Users, we suspect, will quickly come to use the notifications panel in place of the standard Phone and Messages apps - surely set to then disappear into the belly of the OS - and probably many others too. iOS 5's Twitter integration is a case in point, and developers working on apps to tie iOS into popular services should proceed with caution.
How long before it becomes the de facto iOS UI, and the app list sits off to the side?
Verdict Hail