Apple: First cult to lead world in semiconductor spending
The power of positive mind control
---
Apple has become the world's largest OEM buyer of seminconductors, leaving both Hewlett-Packard and Samsung in the dust, according to industry research outfit IHS iSuppli.
In 2010, iSuppli says, Apple spent $17.5 billion on semiconductors, a 79.6 per cent increase from the $9.7 billion is spent in 2009. That year, the company ranked as the third largest OEM semiconductor buyer, behind HP and Samsung.
As recently as 2008, the Jobsian cult was the world's sixth largest semiconductor buyer in the world, iSuppli says. The iPhone had only arrived the previous summer, and the iPad was still two years away from convincing fanbois they needed a really big iPhone.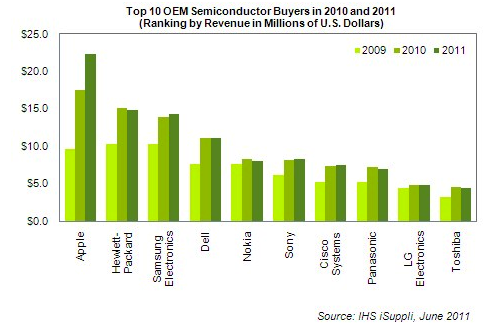 In 2010, according to iSuppli, Apple spent $2.4 billion more than HP on seminconductors, and the research firm predicts this number will rise to $7.5 billion in 2011. Apparently, in 2010, Apple spent 61 per cent of its semiconductor cash on chips for the iPhone and the iPad, while 82 per cent of HP's dollars were applied to desktop, notebooks, and servers.
Apple's growth, iSuppli says, is down to the company's knack for convincing fanbois to purchase everything it offers. "Apple strength in hardware sales lies in its device and media ecosystem—every Apple product is connected through iTunes/iOS and is synergetic with all other Apple products," iSuppli explains, dropping all the important buzzwords. "As a result, committed users of the Apple ecosystem derive more value from each additional Apple device they buy, and users have little interest in leaving the Apple realm. In other words, through a common ecosystem, Apple leverages each device to sell other devices."
HP is now attempting a belated impersonation of Apple, working to get its own WebOS operating systems onto not only phones and tablets but PCs and notebooks. "There is a word for what we have achieved ... and that's synergy," Jon Rubenstein, the former Palm head who's now HP senior vice president and general manager, said when unveiling the company's webOS TouchPad tablet earlier this year. "HP is bringing synergy to an incredible range of new products."
There's that word again. But Apple's success is about more than synergy. It's also about mind control. ®