This article is more than 1 year old
Sony reveals next-gen NEX
World's smallest compact system snapper?
With compact system cameras (CSC) fast becoming the snapper of choice among the photo enthusiasts, the race is on to make the smallest to broaden their appeal still further. Sony's NEX range of APS-C compacts has always been dinky, but the latest addition, the NEX-C3 rounds off the boxy look of its predecessors with its polycarbonate body.
At 109.6 x 60 x 33mm, it slims down too, so much so that Sony not only claims it's the smallest interchangeable lens camera out there, but also the lightest.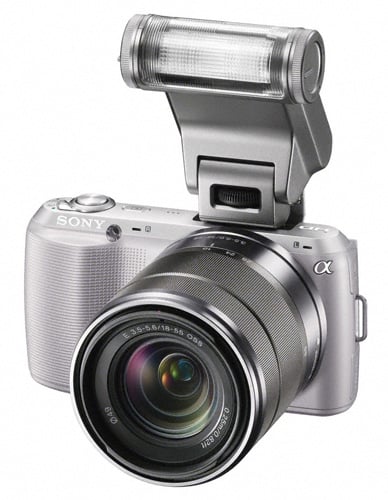 Sony's NEX-C3 and the HVL-F20S flash
The latter assertion comes with a strategically placed asterisk appearing in the blurb. With a body-only weight of 225g, apparently, it's the lightest compared to other lens swapping APS-C compacts, which, of course, leaves out any competing Micro Four Thirds models – the smaller sensor interchangeable lens cameras that Olympus or Panasonic produce.
While the camera may have shrunk, the 16.2Mp APS-C Exmor sensor trumps the 14.2Mp offered by the NEX-5 and NEX-3. Video capture is MPEG4 720p which is akin to the NEX-3 and also suggests a NEX-C5 is in the pipeline given the NEX-5 offers AVCHD 1080i recording. Full details of the NEX-C3 spec can be found on Sony's web site here.
The gimmicks are in evidence too, with Picture Effect, which enables stills and video capture use with a range of creative filters. Sony will also make available a firmware update (v. 04) which provides the Picture Effect functions for current NEX models, with improved manual focusing too, available on 20 June.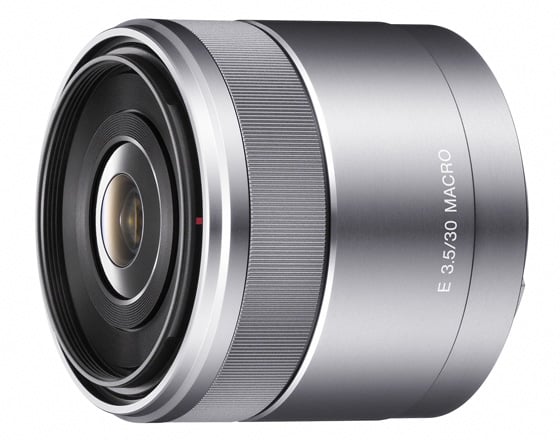 Alpha e-mount SEL30M35 30mm macro lens
The accessory count is also increasing with the SEL30M35, 30mm f3.5 macro lens joining the NEX Alpha e-mount optics arsenal. There's also a new flash gun coming, the HVL-F20S with a tilting head that draws power from the NEX camera. Cases are also being produced to accommodate the new shape when all these NEX additions appear in August. Pricing of the NEX-C3 and accessories has yet to be announced. ®