This article is more than 1 year old
Feds seize $15m from scareware monger's Swiss account
Fugitive accused of bilking millions
Federal authorities have seized $15m from a fugitive accused of bilking millions of people in scareware and counterfeit antivirus software scams.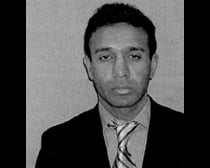 Mugshot of Shaileshkumar Jain
Members of the Department of Homeland Security's Immigration and Customers Enforcement division confiscated the $14.8m windfall from a Swiss bank account belonging to Shaileshkumar "Sam" Jain.
He was first indicted in in March 2008 for allegedly selling millions of dollars worth of bogus Symantec security software.
Authorities charged him with wire fraud, mail fraud, and trafficking of counterfeit goods for the scam, which they said used spamming and web-advertising campaigns.
Nine months later, officials with the Federal Trade Commission shut down a major operation that Jain and associates used to dupe more than one million computer users into buying bogus malware protection.
The scareware operation bought ads on mainstream websites that falsely claimed viewers' machines were riddled with malware infections or contained illegal pornography.
Jain had originally surrendered to ICE agents, but was declared a fugitive in January 2009 when he failed to appear for a scheduled appearance in federal court in San Jose, California.
Last year, the US Attorney's office in Chicago accused Jain of selling more than $100m worth of rogue antivirus software.
The programs carried titles such as WinFixer, WinAntivirus, DriveCleaner, and ErrorSafe and sold for $30 to $70 for each copy. The US citizen and former resident of Mountain View, California, was believed to have fled to Ukraine, authorities said at the time.
The $14.8m was seized from an investment account in Switzerland, ICE officials said in a release issued on Thursday. ICE officials are continuing their efforts to locate him so he can be returned to the United States. ®