Hunted: The Demon's Forge
Take a bow
---
Who's in control?
You control Caddoc and E'lara, two mercenaries embroiled in a thinly-sketched and woefully-familiar adventure centreing around evil hordes and enslaved villagers. A human warrior and elven archer, Caddoc and E'lara's traits form the game's cornerstone mechanic. Although both wield mêlée and long-range weapons, Caddoc's naturally suited to close combat, while E'lara's most effective at distance from behind cover.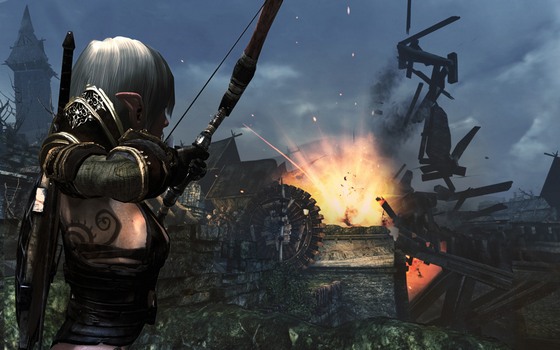 Light at the end of the arrow
That's nothing new, of course – archers have provided ranged support for warriors since the inception of the fantasy genre. But the combination of real-time combat, third-person perspective and cover-based shooting makes for a novel take on the Action-RPG formula.
Of the two characters, E'lara steals the show – and not just for her scant attire and willowy elven figure. Despite a decent range of combos and magical abilities, Caddoc's hack-and-slash combat proves unsatisfying beyond the first couple of hours, whereas pulling off headshots with E'lara's bow and arrows entertains throughout.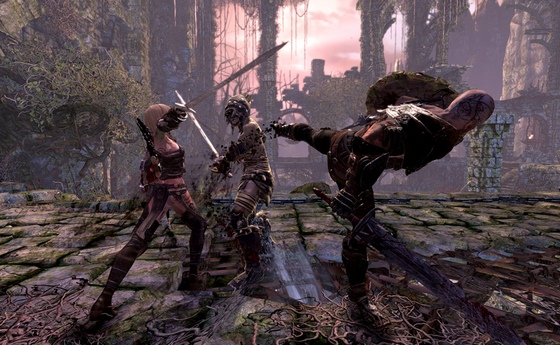 If at first you don't succeed, leg it
A suite of combinable magic abilities adds tactical variation to combat. For instance, Caddoc can hurl multiple enemies into the air where they're more vulnerable to E'lara's arrows. The system works admirably in split-screen and on-line co-op, but largely fails when playing alone. Constrained by the real-time mechanics, and without the aid of traditional RPG action cues, your partner's AI, although competent in basic combat, is much less dependable when pulling off combined attacks.
Similar topics
Narrower topics