Hunted: The Demon's Forge
Take a bow
---
Switch it up
Compounding the problem in single-player, you can only switch between Caddoc and E'lara at portal switches, located sporadically between combat areas. It's an odd, restrictive design offering little strategic purpose, providing instead a simple opportunity to break up long stints playing as either character.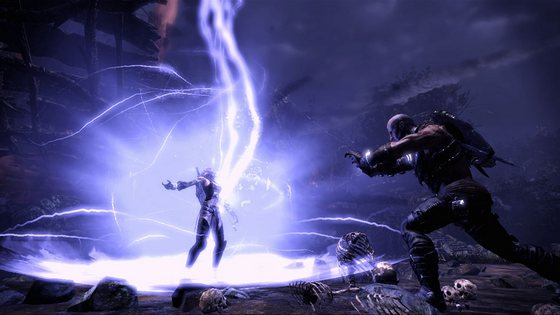 Shocking behaviour
It's not the only odd design decision. Some items can be picked up merely by walking over them, where others require button presses. Similarly, mana is replenished automatically when reserves are low, while health top-ups require another button press. Stranger still, there's no map whatsoever. A Dead Space-style glowing breadcrumb trail works well to keep you directed along the main path, but a map is sorely missed when exploring off-trail for secret areas and treasure. Nowhere more so than in towns and villages, where crowded architecture and muddily-textured walls conspire to create confusing labyrinths.
Equally confusing is the decision to save the most intricate puzzles for the game's final few hours, long after most players will have abandoned the game. For those who do soldier on through its relentless combat, however, Hunted serves up more of the same through its Crucible map creator. Here you can string together multiple arenas into hour-long quests, selecting enemy spawn types and numbers, loadouts and gifts or punishments for your characters. It's a simple, yet versatile system which allows for potentially limitless combinations. In any other game, the Crucible would be a welcome addition. But after the eight-hour drudgery of the main campaign, I suspect few people will have the stamina for more.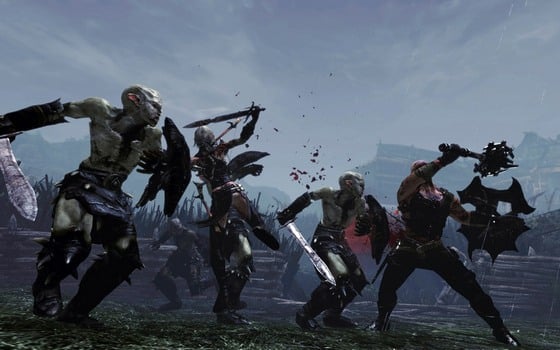 Duty on the Battlefield
Verdict
Hunted aims to make a niche for itself in a crowded genre and, in truth, carries the germ of an idea that deserves further exploration. More combos for Caddoc, a few more spells, a couple more RPG elements, that's all it would take to elevate the game above mediocrity. As it is, despite some early promise, Hunted takes longer to play than it does to forget. ®
More Games Reviews

LA Noire
Dirt 3
Brink
Darkspore
SOCOM 4

Hunted: The Demon's Forge
An Action-RPG to be filed under M for 'Meh'. Available on Xbox 360 (tested), PS3 and PC.
Price:
£40 - Xbox 360/PS3, £30 - PC RRP
Similar topics
Narrower topics