Slate of hand
The SIM card and MicroSD slots are cunningly hidden under the white camera cover, and without referring to the user guide, you'd never guess. The rear is also home to couple of very fine speakers.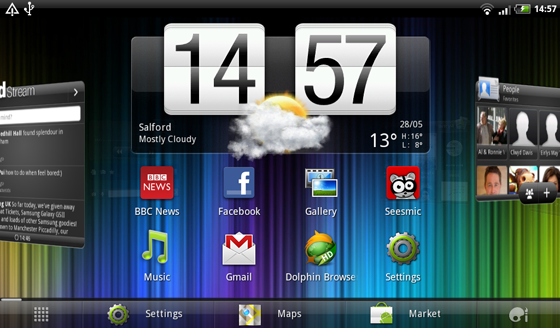 Landscape homescreen view
Flip the Flyer onto its side and the capacitive Android buttons change position to stay below the screen. Yes, I know we have seen something similar on HTC's new S-series phones but it still impresses the rank and file.
Wireless connectivity is taken care of with Bluetooth 3.0, 802.11n Wi-Fi and/or by a standard 3G Sim card. There's no telephone dialler though – the Sim is for data and SMS messages only. If you want to chat using the bundled 3.5mm head-set or mic you'll need to instal Skype or similar.
There is nothing technically unusual about the Flyer's 1024 x 600 LCD glass screen but it's pin sharp, very colourful and has an oleophobic coating. My review device had 32GB of storage of which around 8GB was free for system - i.e. apps - storage leaving me with 20GB for files and media. The USB port is HTC's own ExtMicro type but you get a dedicated mains adapter as well as a USB cable so you can charge from the wall or a PC and have a separate cable for each.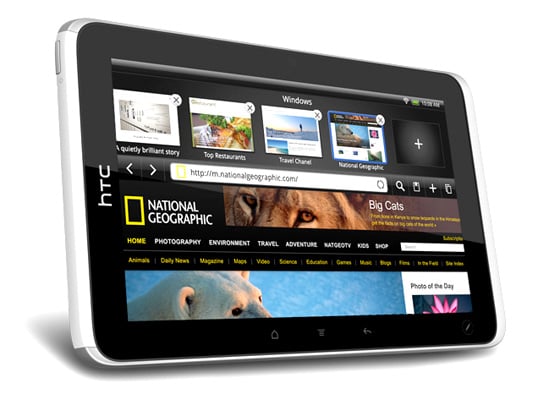 No dedicated HDMI output but Apple style, there is an optional adapter for a price
The Flyer does suffer from one serious omission – there's no HDMI socket. Apparently HTC will be producing a £25 adaptor cable in due course, so the USB port can double up, but that's aping the very worst of Apple's business practices. It's a double shame because the Flyer takes 720p video in its stride, even 720p YouTube streams and MKV-wrapped files, once I had installed V Player.