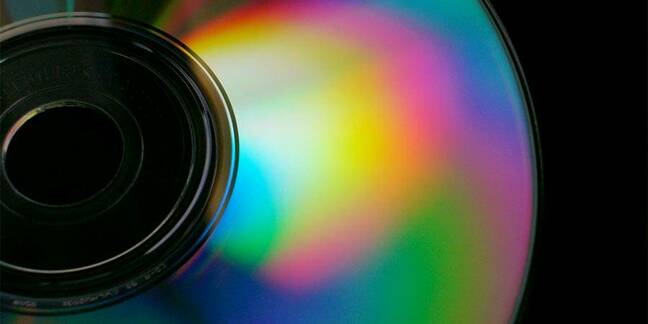 Researchers at IBM are showing off a high-speed switching circuit based on graphene.
In a paper presented in the journal Science today, Big Blue is taking its carbon-based transistor up another notch and making full integrated circuits.
IBM showed off wafer-scale graphene transistors back in February 2010, demonstrating transistors with a gate length of 240 nanometers and able to operate at a switching speed of 100GHz. Graphene consists of flat hexagons of carbon atoms interlined and only one atom high that are deposited on top of a plain-old silicon wafer.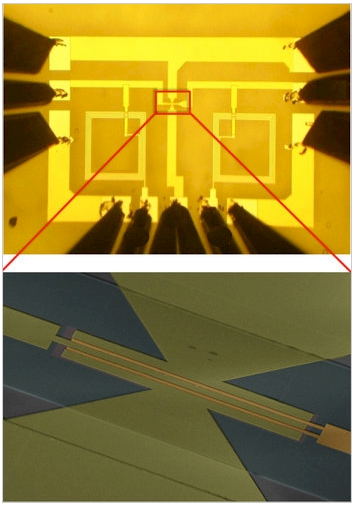 Zooming in on the graphene-based broadband mixer circuit
In this case, IBM uses a multistep process (PDF), annealing the wafer sprinkled with carbon at 810 degrees Celsius, raising it up to 1140 degrees in the presence of helium, and then generating the honeycomb of graphene on the wafer underneath a flow of argon gas with the wafer baking at 1550 degrees. While silicon wafers are brittle, graphene is interesting for circuits because it is both flexible, transparent, and operates well at the range of temperatures where people live.
In its research project, which was done at IBM Research in Yorktown Heights, New York, and funded by the US Defense Advanced Research Projects Agency, Big Blue baked field-effect transistors and inductors based on graphene in the heart of an analog broadband radio frequency mixer. The mixer is used in radios and other communications gear to take a signal and step it up or down to another frequency. According to the abstract of the paper, between 25 and 125 degrees the broadband radio frequency mixer runs at up to 10GHz and had very little reduction in performance (under 1 decibel) running in that thermal range.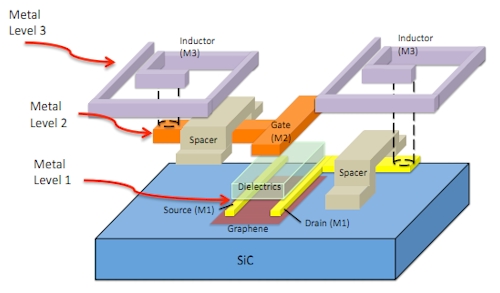 The layers in the graphene-based mixer circuit
According to a a copy of the paper posted on EE Times, the graphene mixer was able to achieve a 27 decibel conversion loss operating at 4GHz, which is not bad compared to commercial-grade gallium arsenide mixers, which have a conversion loss of 7 decibels but peak at 1.95GHz. The graphene circuit did not need passive external components, so would presumably be cheaper to put into radios and other wireless devices, and could also potentially open up higher frequency bands for use.
What a graphene transistor cannot do – and therefore making it unusable for digital circuits of the kind at the heart of computing devices as they are currently architected – is switch completely off. The challenge, then, would seem to be making an analog computer out of graphene circuits. One that might fit nicely into the skull of a T-800 Terminator, for instance.
It is not clear how, or if, IBM will monetize this graphene research. ®
Sponsored: Webcast: Discover and secure all of your attack surface