This article is more than 1 year old
Red Hat's Oracle shot: The Unbreakable Database?
JBoss part II
Open...and Shut Red Hat has always been joined at the hip to the success of the database market. What's surprising is that it has yet to launch its own database product. Perhaps that should change.
Much of Red Hat's success today was built on Oracle's early support for the Linux and middleware leader over the past decade. But it wasn't always so. Early on, Red Hat actually had its own database product (called, not so creatively, "Red Hat Database"). That fling with the database died an ignominious death, perhaps in response to Oracle pressure, but perhaps because the market wasn't yet willing to bet on the still-unproven Red Hat.
This was 2001, after all, when Red Hat had just $84m in revenue.
Much has changed since then, including Red Hat's relationship with Oracle. Oracle tried to undercut Red Hat's growing Linux business in 2006 with its own Unbreakable Linux, arguing that its customers didn't get enough value from Red Hat (even as Red Hat's rising revenues told a different story). Meanwhile, Red Hat dropped its reticence to criticize Oracle.
The result? Oracle Unbreakable Linux (now "Oracle Enterprise Linux") has failed to dent Red Hat. Both companies continue to prosper. And it's increasingly clear that while both companies stand to continue to benefit from their ongoing partnership, Red Hat has both the ability and the incentive to take more control of its destiny and round out its technology stack with a database product.
After all, the battle lines for one-stop-shop software stacks and platform dominance are getting clearer every day. Two significant trends are driving this: the platform shift to cloud technologies (private and public) and the continued consolidation in the software and hardware markets.
Look no further than Oracle to see how the game is being played and what the stakes are. With its acquisition of Sun Microsystems and a bevy of other software firms over the past five years, along with some deliberate moves in platform support (RHEL to Oracle Linux, dropping HP-UX/Itanium for Solaris/Sun), Oracle is using the power of its brand, cash-cow database business, and customer base to grab more customer wallet share than ever before.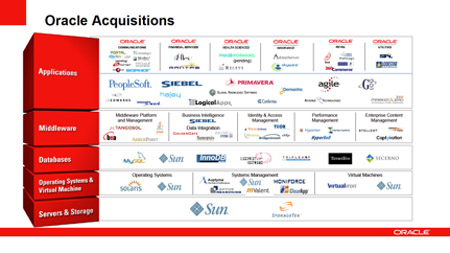 M&A all the way: Oracle's acquisitions up to October 2010
Oracle has no fear. It aggressively targets major rivals in big markets: HP in Unix & x86 Servers, Teradata in data warehousing, and Red Hat in infrastructure software and Linux. It is throwing down the gauntlet to assert its dominance in each of these areas.
Most of Oracle's big competitors are following its lead, finding their gaps and filling them, either through acquisition or partnerships. And, unless you're Microsoft, IBM or - arguably - SAP, the need to compete with a real RDBMS database is a gap begging to be filled.
HP looks to be taking some interesting steps. HP recently acquired Vertica for a data warehouse play, and it's countering Oracle's dump of support for HP-UX Itanium customers with an alternative solution from EnterpriseDB. IBM also partnered with EnterpriseDB back in 2009 to counter Oracle by building Oracle database compatibility into its DB2 database offering through EnterpriseDB technology. EnterpriseDB later licensed that same Oracle compatibility technology to Netezza.
I suspect HP's dalliance with EnterpriseDB is a matter of testing the water to see if the partnership bears fruit. If it does, watch for more between the companies.
Given the "majors" partnerships with EnterpriseDB, what about Red Hat? It, too, is no stranger to EnterpriseDB:
EnterpriseDB leadership team includes several former Red Hat execs, led by Ed Boyajian who retains very close ties to Red Hat executive management;
Red Hat invested in EnterpriseDB shortly after Boyajian took over as CEO, leading some to suspect that Red Hat was hedging its bet on MySQL, given Oracle's control of the open-source database;
EnterpriseDB just became the only supported SQL database partner for Red Hat in its new OpenShift cloud platform.
This isn't to suggest, however, that Red Hat is positioning itself to buy EnterpriseDB. But it is to suggest that such a move might make a lot of sense.
Red Hat's brand is at an all-time premium, even as its stock and revenues soar. The company, which originally fumbled its JBoss acquisition, has been making middleware pay huge dividends, and is showing great strength in virtualization. It's clearly no longer the one-trick Linux pony of yesterday. Red Hat could handle a database.
Would a database add too much sales complexity, too soon? Perhaps. But it also nicely rounds out Red Hat's stack story that would play well for Red Hat field sales personnel and Red Hat's channel who constantly compete with end-to-end solutions from the likes of Oracle and IBM.
At no time has this been more feasible for Red Hat to do, given the industry's nascent shift to the cloud. The move to cloud computing is a great catalyst for changing one's database.
Red Hat has the cash. Red Hat has the brand. But does it have the will to buy the last-standing privately held database vendor? That's the question. ®
Matt Asay is senior vice president of business development at Strobe, a startup that offers an open source framework for building mobile apps. He was formerly chief operating officer of Ubuntu commercial operation Canonical. With more than a decade spent in open source, Asay served as Alfreso's general manager for the Americas and vice president of business development, and he helped put Novell on its open source track. Asay is an emeritus board member of the Open Source Initiative (OSI). His column, Open...and Shut, appears three times a week on The Register.