Four jailed for million-pound abuse images ring
Huge newsgroup uncovered
---
Four men have been sentenced today for their parts in running a news group service used for the distribution of child abuse images.
The news service, Athenanews.com, earned the four men about £2.2m - police will be applying to the courts to seize that money.
Ian Frost, 35, and his civil partner Paul Rowland, 34, of Martin Dales, Lincolnshire got 33 months each. Ian's brother Paul Frost, 37, of Woodhouse, Sheffield, got 15 months and Ian Sambridge, 32, of St Albans, got 12 months suspended for two years.
None of the men were known to the police before the investigation began. They were highly - technical and police seized commercial servers among other hardware - see below.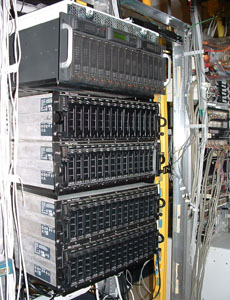 Operation Alpine began after a tip-off from German police received via CEOP.
Lincolnshire Police identified 211 suspects in the UK and 1,300 around the world.
Detective Superintendent Paul Gibson said: "The safety of children has always been our main focus throughout this investigation and the real achievement remains the protecting and safeguarding of 132 young people in Britain as a direct result of our work...Lincolnshire Police will be making an application through the courts in an attempt to seize the profits obtained as a result of their illegal enterprise. A total benefit of £2.2m was received as a result of running their news services.
"The wider investigation also identified 211 suspects in the UK and 1,300 worldwide. All of these people are suspected of buying child abuse images from the news service run by the offenders. Many have been dealt with by the police and the courts and this process is ongoing." The news service ran between 2002 and 2009 and members paid according to how much content they wished to download.
Police seized raid arrays and servers - one so large that it dimmed the lights in the room were it was switched on for forensic examination. Police looked at 1.3m emails, mostly manually, they have viewed and categorised 5.5m images and 6,000 films.
Others convicted as a result of Operation Alpine include a deputy head of Cumbrian NHS Trust, a scout leader and school governor from Devon and Cornwall, a school crossing patrol worker from Humberside and a Scottish teacher. In total 55 people have been sentenced or cautioned for child abuse image offences.
Lincolnshire Police worked with CEOP, nearly all other UK forces and SOCA and other international agencies on the case. ®