This article is more than 1 year old
Motorola Atrix dual-core Android smartphone
Docks and slots for all occasions
Keyboard skills
Motorola has produced a few enhancements for Android's user interface, not least with its Motoblur service, with its resizable widgets pushing your social networking updates to you. The 1GHz dual-core Nvidia Tegra 2 processor is backed by a full 1GB of RAM, and promises to be extremely fast. Sure enough, it nips between apps at speed with no real sign of lag, even with a load of apps running at once.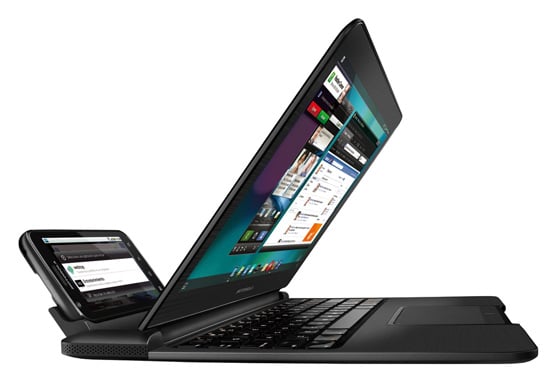 The Atrix delivers all the CPU horsepower when docked to the keyboard
The Atrix is available with a heap of optional accessories from Motorola, all intended to help make it the centre of your connected world. The Lapdock, for instance, is a slim fold-out keyboard and screen that looks like a netbook, except that it has a dock for your Atrix, which then provides the computing power.
It's a little slower in operation than using the standalone phone, but it's fast enough not to be boring. The keyboard is fine, though the trackpad can be a bit spongy. Usefully, it can be powered from the mains and also comes with its own pair of AA batteries, promising up to seven hours of use without draining the Atrix.
Less usefully, however, while Android is running on the handset, the Lapdock uses the Linux-based 'Webtop' operating system, which can run the Firefox browser and view your stored videos, but not a lot else, so it doesn't offer the versatility of any of the recent Android tablets. You can view your phone's screen in a window on the Lapdock's screen but it's a bit confusing flicking between the two – it would have been better as either full Linux or full Android.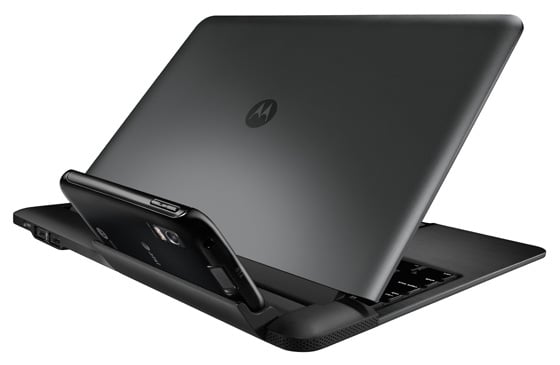 The keyboard runs off its own AA batteries
There's also a wireless mouse available, as well as a standard charging dock with microUSB and 3.5mm headphone ports, which allows you to set up a range of display widgets while you're charging – time, weather or your email updates. And there's more. The Atrix can utilise a multimedia dock that offers three USB ports and a pass-through mini HDMI port. Once that's connected to your TV you can control video playback from a Bluetooth remote control.