This article is more than 1 year old
Duke Nukem Forever
What were we waiting for, Christmas?
Review In a game bursting with 1980s macho-movie quotes and in-jokes, one line resonates far beyond Duke Nukem Forever's puerile script. Besieged by an alien invasion, the President of the United States ignores calls to beg the eponymous meathead to save the planet, lamenting, "Duke, you're a relic from a different era."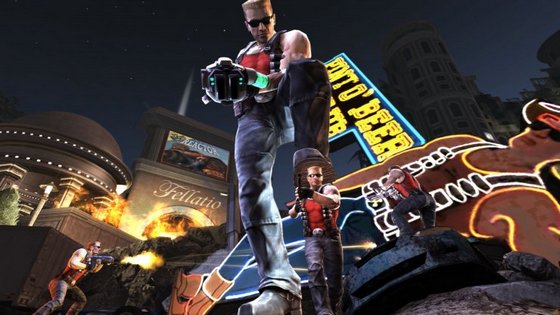 My boot, your face; the perfect couple.
It's not just The Duke himself who's from a different era. His repertoire of foul-mouthed quips might be ripped from the VHS reels of Commando, Total Recall and Aliens, among many others, but it's the painfully dated gameplay that ultimately proves some relics are best left buried.
Everywhere you look, DNF is a testament to its infamously protracted and traumatic development. Long loading times, low-res textures and polygon counts, poor facial animations and lip-syncing, screen tearing, juddering frame rates, basic lighting and reflections, pop-up, jaggies and disappearing assets – you name it, DNF suffers from it. Every gaming advancement of the past thirteen years is undone; every conceivable design flaw evident.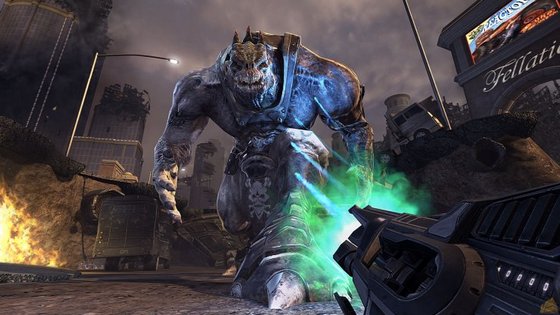 What are you? Some bottom-feeding, scum-sucking algae eater?
A throwback to a bygone age, gunplay is as one-dimensional as Duke's emotional range. Right from the prologue boss battle – a fight against a rocket-wielding Titan – the combat never rises above the simple side-steps and strafing circles of Doom, with enemies displaying all the intelligence and self-preservation of Al Qaeda foot soldiers.