Google Instant Pages: Search sites rendered before you click
Webmasters, beware fake traffic
---
Google has unveiled several new desktop and mobile search tools, including a Chrome service known as Instant Pages that attempts to accelerate your searches by rendering pages before you actually click on them.
Already available with the developer version of Google Chrome – and due to arrive in the next stable version of the browser later this summer – Instant Pages attempts to predict what you will click on, and if it has a certain amount of confidence in its prediction, it will render the page before you select it. In most cases, this simply means that Google will pre-render the top link on each results page.
"We save users a lot of time both with auto complete and Google Instant, but we're not done yet," Google Fellow Amit Singhal said during a press event in San Francisco. "Even when you select the page that you want, the page is not there. You don't yet have the information you need. With Instant Pages, when you click on a result, the page may just be there. Instantaneously."
Separately, Google has added voice search to its primary desktop search engine; beefed up its Image Search engine so that you can search simply by dragging and dropping a pic onto the page; and introduced a new mobile search home page that provides quicker access to "local" search results.
Singhal also announced that Google Instant – the update to the company's search engine that serves results in realtime, as you type – is now available in 32 languages on 69 domains, including 16 Latin American domains. In "the coming weeks", Instant will arrive on Google's Image Search engine as well.
"We save users a lot of time both with auto complete and Google Instant, but we're not done yet. Even when you select the page that you want, the page is not there. You don't yet have the information you need."
Google Instant, Singhal said, lops between 2 to 5 seconds off the average search, and Instant Pages is an effort to reduce search times even further. According to Google, the average web page contains about 700KB of data covering about 17 different sub-resources, from JavaScript to images to ads, and loading this average page takes a good 5 seconds. With Instant Pages, Google aims to load this page while you're scanning its search results, trying to determine what you'll click on before you click on it.
Singhal indicated that there will be times when Google is not confident enough in its prediction to pre-render a page. But if it does have that confidence, it will render one and only one page. Typically, Singhal said, this is the top result, but he said there are cases when it will pre-render one of the lower results. The average user takes 15 seconds to scan a list of search results, Google estimates, so that one page should be loaded before you're done scanning. The service does not pre-render ads – only "organic" search results. Google hinted that it may expand the service to ads in the future.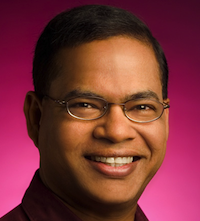 Amit Singhal
We asked Singhal how often Google correctly guesses the result, but he did not give specific figures. "When we started this week, we were concerned that we wouldn't be able to predict accurately often enough," he said. "But wer'e very pleased that today the number of times we can predict confidently is much higher than we initially expected."
Because Google will make mistakes – rendering pages you don't actually want – this will undoubtedly skew page-view statistics for those running websites. Google Chrome product manager Alex Komoroske said that webmasters can adjust their page view stats using the experimental version of the Page Visibility API, which is in the very early stages of standardization at the W3C. But webmasters better get cracking. Instant Pages will be available in the Chrome beta channel this week, before it arrives in the stable version of the browser about a month after that.
Google has also open sourced its pre-rendering code, and it hopes that other browser vendors will adopt the technology as well.
Search by voice and image
Google's desktop voice search tool uses the same technology that has long been available on Android phones. The tool will be gradually rolled out across the company's primary search engine over the coming weeks. To use it, you tap an icon – a small microphone – at the end of the existing Google search box.
On Android phones, Google's voice system covers 27 different languages and dialects around the world, and the company estimates this covers about two-thirds of the world's population. Mike Cohen, who leads Google's speech efforts, said that over the past year, the company has seen the volume of mobile speech inputs grow by a factor of six. Each day, he said, Google collects the equivalent of two years of continuous speech.
Speaking with The Register after today's event, Cohen said that the speech is always anonymized, meaning Google ensures it is no longer connected to a particular Google account, IP address, or other unique identifier. After 24 months, the data is then discarded.
After demonstrating Google's desktop voice search tool, Johanna Wright – a director of product management for search – showed off a new version of Google Image Search that seeks to identify images that you provide. You can drag and drop images onto the page, copy and paste the url of an image, or actually upload the image to Google's servers. "Every picture has a story. And we want to help you discover that story," Wright said. "If a picture tells what you're trying to search for better, just use that picture."
The service is based on technology that debuted with Google Goggles, a mobile application that attempts to match pics snapped by your phone camera to those stored in Google's web-based image database. "Search-by-image uses a lot of the same features in Google Goggles on phones, except it enhances that for web scale," said Peter Lumley, a Google product manager for image search. "We take an image and break it down in fundamental features, whether they be points, lines, shapes, or textures."
The service does not do facial recognition per se. But there may be cases where it can identify images that involve faces, according to Singhal.
The tool is rolling out globally across Google Images over the next few days. It's accessed from a small camera icon at the end of the Google search box. Google is also offering Chrome and Firefox extensions that provide access to the service.
Mobile homepage revamp
Google's new mobile search interface includes icons that provide direct access to nearby restaurants, coffee shops, bars, and other local businesses. As demonstrated by Google's Scott Huffman, an engineering director on the company's mobile search team, these icons take you straight to a list of business in your general vicinity (determined by Google's built-in location services) and a map that displays these businesses. When you scroll through the list of text results, the map changes in real time to reflect the results you're looking at.
The new interface also includes what Google calls a "query building" tool. Essentially, this gives you access to additional search suggestions without typing additional characters. If you type "Hilton Hotels", for instance, and the list of search suggestions doesn't match what you're looking for, you can click on a "+" icon at the end of the search box to bring up additional suggestions. This tool was previously available with Android's native search widget and the iPhone's Google search app. "This makes it easier to enter complex searches," Huffman said
Separately, Huffman demonstrated a new incarnation of Google Goggles that lets you translate images of Russian text. Earlier this year, Goggles was paired with Translate, so that you can snap photos of foreign text and translate it on the fly. ®