This article is more than 1 year old
IBM: Palmisano mulls Big Blue line of succession
We have a plan. Almost
It's no coincidence. As IBM celebrates its 100th anniversary, the Wall Street Journal is running a vague story about IBM president, CEO, and chairman Sam Palmisano "seeking advice" on how to handle the transition to a new set of executives. IBM's age has got Wall Street thinking about how old Palmisano is – and who will be running the company when he steps down.
Presumably, the "people familiar with the thinking" of Palmisano are IBMers trying to send Wall Street a message that they have the situation under control. When asked to comment on Big Blue's succession plans, several IBM spokesmen declined.
The traditional retirement age for IBM's CEOs is 60, and Palmisano is now 60. As The Register pointed out more than two years ago, it's high time he slapped the chief operating officer or president's tage on his successor .
Modern day Watson
Thomas Watson – who with George Fairchild cobbled together the Computing Tabulating Recording Company, or CTR, on June 16, 1911, in Endicott, New York – was the longest running president/CEO of what would become International Business Machines. Fairchild died in 1924, eight years after CTR – a maker of time recording and punch card equipment and meat scales and cheese and meat slicers – went public on the New York Stock Exchange.
Watson ran the company first as president, became CEO in 1924 when Fairchild died, and changed the company's name to IBM. He held the reins until 1956, when his son Tom Watson Jr. took over. The younger Watson moved IBM into the mainframe era and ran Big Blue until 1971.
If Palmisano serves in the CEO position until 2014 or 2015, as we expect him to, he will have held the CEO position longer than any other person to have the job other than the two Watsons, including his own predecessor and the man credited from saving Big Blue from bankruptcy and breakup: Lou Gerstner.
If Palmisano is seeking advice from anyone, it is Gerstner, who picked Palmisano to be the first general manager of IBM's Global Services division two years after taking over from John Akers, who ran Big Blue aground in the early 1990s.
Among other things, Akers didn't realize the importance of the PC and Unix revolutions. When Palmisano was 48, back in 1999, after a stint running IBM's always problematic PC business, he was tapped by Gerstner to run IBM's Server Group, and he spearheaded the company's move into Linux and open source.
In July 2000, Palmisano was named president and CEO, and it was absolutely clear at that point who would be running Big Blue when Gerstner retired. In March 2002, Gerstner relinquished his CEO title to Palmisano and remained chairman until the end of the year.
Succession plan?
The WSJ reports that Palmisano is looking to appoint a president or chief operating officer in the next 12 to 18 months. The top contenders are Ginni Rommety, who was put in charge of IBM's sales force last July when the company was reorganized; Mike Daniels, who had been running two thirds of the Global Services behemoth, now runs the whole shebang; and Steve Mills, who runs a combined Software Group and Systems and Technology Group.
Rometty is 53, Daniels is 56, and Mills is 58. All of them are older than Palmisano was when he took the reins, but then again, we all live longer and work longer these days, so why not IBMers, too? Particularly when there is no hotshot whippersnapper coming up through the ranks.
Even Robert Moffat – who was caught and sent to jail for his part in the Galleon insider trading ring and who was an heir apparent to Palmisano after managing IBM's PC business, its printer business, its vast supply chain, and its systems business – is 55. If IBM's top execs stayed in the job until they were 65, Rometty, Daniels, Moffat, Mills, and another outlier – Rod Adkins, who is 52 and who runs IBM's server and storage subdivisions these days – would be young enough to have a turn at the rudder.
Gerstner was CEO for nine years, and if Palmisano sticks around until 2014, he will be in the job for a dozen years. It is inconceivable that Palmisano will not stick around through 2015 as chairman, no matter what he ultimately decides to do in picking a COO, president, and CEO over the coming years. There is no question in our mind that Palmisano wants to see through the company's profit roadmap, hitting earnings per share of at least $20 a pop by the middle of this decade.
Beyond the norm
Such lengthy time at the helm as Palmisano has had is not the norm at Big Blue, unless your name is Watson. Vin Learson was CEO from 1971 to 1973, and was president for five years before that under the younger Watson. Frank Cary, who became president of IBM in June 1971, rose to be CEO in January 1973 and held the job until January 1981.
Cary remained chairman for two years beyond that, grooming his successor, John Opel, who was named president of IBM in 1974 and who became CEO in 1981 and held that post for four years. It was Opel who groomed Akers to be president. Like Palmisano, Akers rose quickly through the ranks at Big Blue and was president of the company by the time he was 48.
Unlike Akers, who did all of his rising inside the Data Products Division, which made and sold mainframes, Palmisano spent time in lots of different divisions. And whoever takes over in the top positions at IBM will have done the same thing because if IBM has learned anything from its near-death experience in the 1990s, it is that it needs executives to be familiar with many different aspects of the IT racket and different geographies if possible.
The simplest thing for Palmisano to do if he really wants to let go of power and responsibility and let others do some of the driving between now and 2015 would be to appoint someone as vice chairman (as Gerstner did with John Thompson, who ran IBM Canada as well as a bunch of other IBM groups over the years, when he made Palmisano president and COO in 2000) and then name another executive as president while retaining the CEO position for himself for a while. It is not clear what the COO role would be now, as it was not clear back in 2000.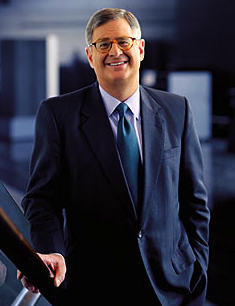 Sam Palmisano
Having too many people with too many titles is not a good thing. Each executive has their own backers within IBM, and right now there is a very clear line of responsibility from the division levels up through the groups and on to Palmisano. Everybody knows Palmisano is in charge, just like everyone knew Gerstner was before him. There's real value in that.
Ask Larry Ellison, co-founder and CEO at Oracle, or Leo Apotheker, the new CEO at Hewlett-Packard who has been cleaning house in recent weeks.
Palmisano's biggest worry has to be that any one of his top execs, who want to take the reins for a while, would be willing to take a job with a competitor. So far, that hasn't happened. But Cisco Systems could be looking for a seasoned exec to be CEO sometime soon, as could Dell, HP, EMC, and a slew of hot-shot social media startups flashing cash. ®