The PR team behind the US launch of Duke Nukem Forever has apologised for threatening to blacklist publications who gave the eagerly anticipated title bad write-ups.
After the game received critical brickbats, it seems topping the games sales charts wasn't enough of a consolation for The Redner Group.
One staffer posted threats on the agency's official Twitter page stating the team will decide "who gets games next time" based on the venom in a reviewer's piece.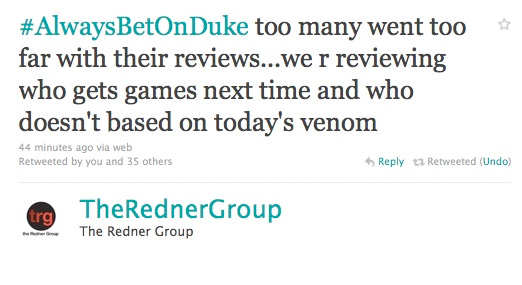 Source: Ars Technica
The Tweet has now been removed, replaced by a grovelling apology and the promise that individual sorry letters will be sent out to worried reviewers.
According to ArsTechnica - who managed to grab a screenshot before the original Tweet was removed - blacklisting is a common thing in the games world, and has been for years, but the activity is rarely made public like this.
Have a look at what we thought about Duke Nukem Forever here on Reg Hardware. Are we in line for a blacklisting? See you in Hell! ®
Similar topics