This article is more than 1 year old
Asus Eee Pad Transformer Android tablet
Tabtop computing at its best?
Latching on
A proprietary 40-pin port connects the included cable for USB data transfer and charging form an AC adaptor. While the Transformer can be charged over USB when switched off, the sixteen hours required for a full charge makes the option impractical. Fortunately, the diminutive USB to AC Adaptor has no 'dead rat' transformer, making it far more bag-friendly than the Xoom's.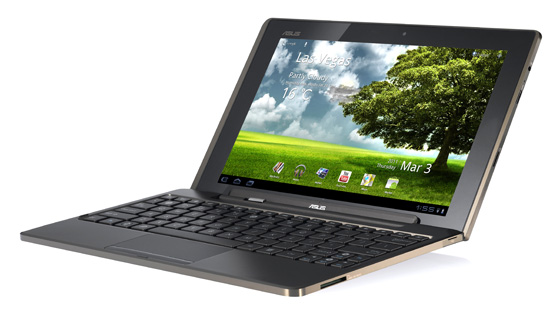 Looks the part, but makes for an expensive netbook
The 40-pin port also connects the optional keyboard, with sockets either side clamping the units together. With a little practice, the tablet slots into the keyboard's clasps with minimal effort, locking securely with a single latch, and holding firm despite reasonable tugging and twisting.
Although the Transformer's looks are suspect, its 1280 x 800 screen is anything but. The combination of Gorilla Glass and IPS panel technology means it's as tough as it is beautiful. Viewing angles are incredible, as is the backlighting, which keeps the screen visible even in direct sunlight. The capacitive tech impresses too, outperforming the Xoom in accuracy when browsing, minimising the need to zoom – every pun intended – when selecting small objects and links.
Just edging out the Xoom in AnTutu System Benchmark tests with a score of 3739, the Transformer is the best exponent yet for Android 3.0 Honeycomb. Backed up by 1GB of RAM (of which around 250MB is allocated to the GPU and around 100MB to Android) the Nvidia Tegra 2 chip chews through application switching, multitasking and tabbed browsing. There's some occasional image and banner pop-in when scrolling fast through web pages, but it's down to the ludicrous speeds you can scroll at, rather than hardware constraints.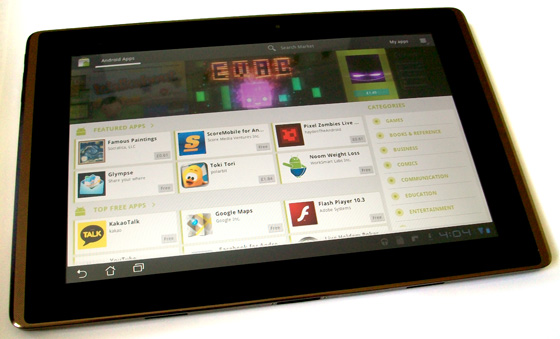 Not much Honeycomb fare in the Market as yet
With Honeycomb firmly in its nascency, Android Market has few optimised apps capable of pushing the Tegra 2. The present batch of games in Nvidia's dedicated Tegra Zone aisle also fail to provide a stringent test, although incoming titles promise to do so, as developers get to grips with the hardware. Existing Android apps work well, with only one or two crashing unexpectedly on occasion. And all apps scale up beautifully on the 10.1in screen with minimal pixellation.