HP dubs Oracle 'bitter antagonist' in Itanic spat
Anti-Hurd mentality
HP vs Oracle Hindsight is always at least 20/20. But sometimes it is 20/15 or even 20/10. Maybe Hewlett-Packard should have bought the server and storage business from Sun Microsystems and argued to keep Solaris and let Oracle eat Java, which is what the company really wanted to get ahold of once it became clear that IBM was not going to buy Sun back in early 2010.
In a lawsuit filed on Wednesday by HP against Oracle in California Superior Court in Santa Clara, HP made good on its threat to take Oracle to court over its shoddy treatment of HP's Itanium-based Integrity server lineup.
The company had sent a letter of demands to Oracle co-president and chief financial officer, Safra Catz, on June 8, and gave the company a week to address HP's grievances. According to HP sources, Oracle never replied to the letter, and so HP sent its lawyers to court with a lawsuit (PDF) that ironically expresses surprise at Oracle's behavior.
"In a mere eight months, Oracle has gone from arm-in-arm 'partnership' with Hewlett-Packard to bitter antagonist," the suit begins. "Starting with Oracle's hiring of former CEO Mark Hurd in September 2010, followed by its March 2011 announcement that Oracle would no longer enable its latest software to run on HP's flagship Integrity line of servers, and culminating with its use of strong-arm tactics to coerce customers into replacing their HP servers with Sun servers they do not want, Oracle has acted contrary to the best interests of its customers and in clear violation of its commitments to HP."
The issues between these two companies go back a lot further than eight months. Since Oracle announced the deal to acquire Sun for $7.4bn (at a net cost of around $5.6bn) in April 2009, it has all been downhill for the HP-Oracle relationship.
In fact, it started on the very day Oracle made its bid for Sun, with the deal stepping on HP's announcement of its BladeSystem Matrix cloud-in-a-box converged and virtualized server-storage platforms.
By September 2009, with the Sun acquisition deal still not done, Oracle ditched HP as its hardware partner for the Exadata database clusters, announced a year earlier, and did an Exadata V2 rev based on Sun servers and storage Hurd was fired by HP nearly a year later for not keeping his expenses straight as they related to a subcontractor named Jodie Fisher, who sued Hurd for sexual harassment.
Hurd settled the matter and HP said he never committed sexual harassment based on its corporate definition of the crime. Hurd, who is a tennis partner of Oracle co-founder and CEO Larry Ellison, took the co-president job at Oracle a month later, and the gloves were completely off.
This problem has been simmering for more than eight months, no matter what HP's lawyers say.
Fitted for a suit
In the heavily redacted lawsuit, which HP sources say has been partially blacked out to keep items under non-disclosure from being made public, HP claims that it was never given notice that Oracle would not be supporting future versions of its database, middleware, and application software on future Itanium platforms.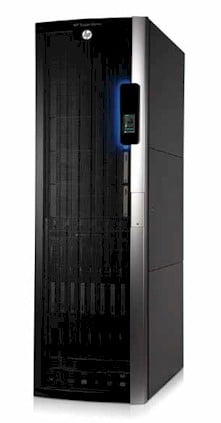 HP's Superdome 2 Itanium 9300 system
On the face of it, this is a bizarre decision, since technically speaking, the future "Poulson" and "Kittson" Itanium processors will be instruction-set compatible with the current "Tukwila" Itanium 9300 processors.
Oracle no doubt would have to work with HP to tune its systems software to perform well on HP's HP-UX Unix variant and future Integrity systems, but compatibility is not really an issue. Support – meaning technical support to fix problems when things go wrong, as they always do with software – is the real issue.
As it turns out, HP is alleging in its lawsuit that Oracle is not honoring its contractual agreement to do bug fixes on its software running on HP Integrity machines. Since the March iceberg that Oracle dropped in front of the Itanic processor, HP says that "Oracle has not only breached its contractual commitments to HP and its promises of continuing support to customers, but it has engaged in a series of tactics designed to force customers to shift from HP's Itanium server hardware to Oracle's own server hardware."
HP says that when customers that complained about critical bugs in existing Oracle software, it has refused to do so and demanded instead that companies upgrade to the next version of its software, which won't run on the Integrity machines. (This seems like a long time to wait for a critical bug.)
This is by far the most serious claim in the HP suit, and if true, would be the most damaging to Oracle. Later in the suit, HP says that the bugs in question are "significant defects that relate to the core functionality of the software", not anything peculiar to the Itanium platform, and that "it is customary in the software industry for software developers to fix these types of defects, and Oracle contractually committed and otherwise promised that it would provide customers with this type of support".
HP also alleges in the suit that in addition to telling customers to move to future versions of Oracle software, the software giant and now hardware vendor has "coupled this demand with below-cost offers to give away – free of charge – Sun servers that will run new versions of Oracle's software," which HP's lawyers argue are "Sun servers they do not want."
HP's suit says that Oracle and HP engineers had already been at work for months in a joint development effort for the upcoming Oracle 12g database launch to make sure it would run on Itanium processors; that co-development ended in late May, according to HP, when Oracle "unilaterally ceased and withdrew from the development engagement". HP notes that Oracle and IBM are at the moment continuing in their collaboration to make sure Oracle software runs on IBM servers.
Under normal circumstances, HP engineers get early releases of Oracle software (source code under license, not just binaries) and Oracle gets HP iron – hundreds of Itanium servers, according to the suit – for Oracle to use for development, free of charge.
Because of the partnership arrangement between the two companies, the engineers at both companies can freely exchange information with the goal of proving the best performance and reliability possible for the combination of Oracle software and HP hardware.
HP shipped its first Itanium systems in 2001, and Oracle supported them with its databases from the very beginning.
Asking the court for relief
Because the first three claims in the HP lawsuit against Oracle are blacked out, as are sections of the suit that discuss them and the remedies HP is seeking, we don't have a complete picture of what HP is after.
The other seven claims include breach of implied contract, promissory estoppel, defamation-libel, intentional interference with prospective economic advantage, and three alleged violations of California's business and professional code.
HP is asking the court to compel Oracle to enforce its implied contract to support existing Itanium machines with its software, including bug fixes, as outlined in its March statements to customers. HP is also seeking direct and consequential damages – lost profits, costs of mitigation, loss of goodwill, and damage to its reputation.
HP is also claiming that the "false and misleading statements concerning the future of the Itanium processor" made by Oracle – mainly that Intel is sunsetting Itanium chips in favor of Xeons and that HP is "knowingly withholding" this information from customers – constitutes defamation and libel.
All the more so because Hurd, formerly being in charge of HP, "had personal knowledge" of HP's business and interactions with Intel. HP also wants the California court to smack Oracle for interrupting HP's relationships with current and future Integrity server customers and for selling its own iron below cost, which are violations of California law.
HP is seeking a trial by jury, with general damages determined by trial and punitive and treble damages where the law permits – plus lawyers' fees and other costs relating to the lawsuit.
If this goes to trial, expect some truly Clintonesque discussions about what the meaning of the word "support" is. ®