Pic Boffinry chiefs in control of the mighty Hubble Space Telescope have released the latest imagery from its most advanced instrument, Wide Field Camera 3, of the relatively nearby galaxy Centaurus A - well known for its spectacular space dust clouds.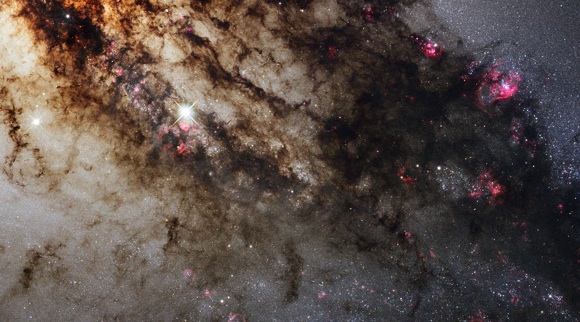 Not too dusty. Bigger version here.
Just 11 million lightyears away according to the ESA, Centaurus A (aka NGC 5128) is a relatively close neighbour of us Milky Way denizens in intergalactic terms. It has an active centre, generally thought to contain a monster black hole engaged in rending entire solar clusters out of existence and beaming vast energies out into the void in the process, but none of this is visible to the Hubble's instruments.
What we see here, according to the ESA, is a slightly enhanced version of what our own eyes would show us if we were a lot, lot closer to Centaurus A: the image has been enhanced with some near infrared and ultraviolet as well as the visible spectrum.
As any keen galaxy-twitchers reading this will doubtless already have remarked, intense areas of star formation indicating rich clouds of hydrogen gas are visible in red: some say that these gas clouds must have resulted from a pile-up with another galaxy at some time in the past.
More Hubble imagery of the photogenic Centaurus A is available from NASA here. Some equally spectacular snappage from ground-based telescopes can be found, courtesy of the European Southern Observatory, here. ®