This article is more than 1 year old
Apple iMac 27in
Don't try this at home, kids
Think big
If your previous experience of widescreen is a 22-to-24in display, those 27 inches really do come as a surprise. With all-in-ones, the screen size determines the overall size of the computer, and this one comes across as bloody enormous.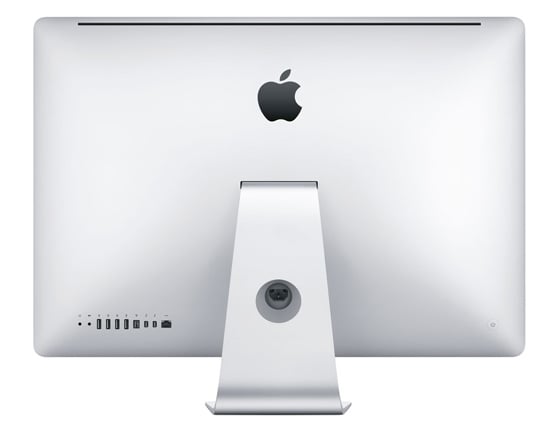 Surely real computers are supposed to look hideous at the back?
The dark, almost mirror-like front contrasts with the slightly curved, almost featureless rear of the case. There are no ribs, grilles or recesses, just a single, smooth piece of aluminium. It's beautiful but arguably also a frivolous waste of money and effort in construction. You want Apple? Then you pay handsomely for the handsome.
The minimalist row of ports at the rear will be familiar to anyone who has seen iMac designs since Apple ditched the short-lived angle-poise lamp concept. Clean though it is, I wish Apple would insert more space between the ports, since some of my USB device connectors are pretty fat.
New to this latest range of iMacs is the recently developed Thunderbolt port; in fact, the top-end 27in model sports a pair of them. Basically, Thunderbolt is an Intel PCI Express port using an Apple DisplayPort connector, providing the potential of two channels of 10Gbit/sec external data throughput with 10W of power running down the cables.

There are two Thunderbolt ports on this model, so use one for an external display
Oh joy, I hear you say, another port standard to buy peripherals and adapters for. You're not wrong, although you can at least continue to use one Thunderbolt port with your existing DisplayPort adapter for attaching an external display, leaving the other port for other duties. Apple's rush to build in two Thunderbolt ports probably means we'll never see USB 3.0 on a Mac, although the company still insists on including a Firewire 800 port. What is it for?