This article is more than 1 year old
Infamous 2
Mutant ninja circles
Review When it comes to superhero videogame sequels, it pays to be honest about your expectations. With the most compelling elements exhausted in the original – namely the collection and mastering of superpowers – all you can realistically hope from a sequel is one of two clichés. Will it go for the cheap shot and rob you of your powers, forcing you to rebuild your toolset from scratch? Or will it leave them untouched, presenting you instead with fresh challenges and more powerful foes?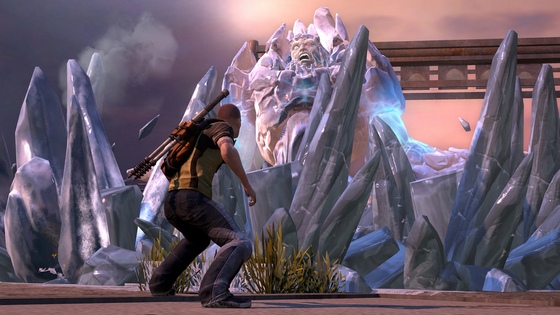 "Are we clear?" Crystal mate
Infamous 2 settles for the latter. And it's a decision that has mixed results. Starting out with most of Cole MacGrath's electric superpowers intact, the game relies on a change of scenery and a new, seemingly invincible nemesis called The Beast to drive interest.
After failing to prevent The Beast from destroying Empire City – the New York-alike setting for Infamous – Cole flees south to New Marais (New Orleans) to prepare for a final showdown. As The Beast rampages down the Eastern seaboard, you begin a desperate race to augment Cole's powers sufficiently to master the Ray Field Inhibitor, a device that will weaken The Beast and provide you with a chance to defeat it.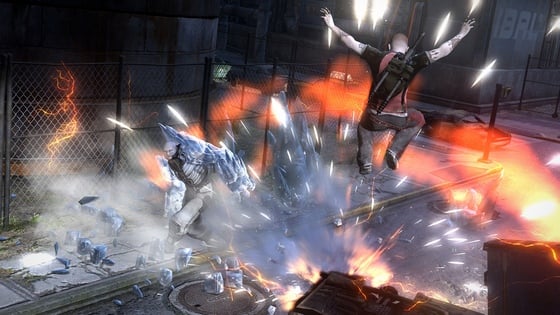 Who said white men can't jump?
Complicating matters – while providing the foundations of the sandbox gameplay – New Marais is a raging battlefield in which you're caught in a bewildering triangular crossfire. On one side are grotesque mutant freaks risen from the surrounding swamplands. On another, the Conduits, a mysterious super-powered army. And finally, there's the Militia, a group of well-armed locals hell-bent on purging the earth of all mutants.