Pizza Express preps app for iPhone payment
Margherita minus the dough
---
Customers can settle bills at Pizza Express using their iPhone, after the tech-savvy fast food joint launched an app with Paypal functionality.
As well as paying for the bill in under a minute, pizza lovers can use the app for booking tables, viewing menus and storing special offers.
Instead of being handed a receipt, both customers and the restaurant are sent electronic confirmation and the punter can leave without fear of being chased for 'doing a runner'.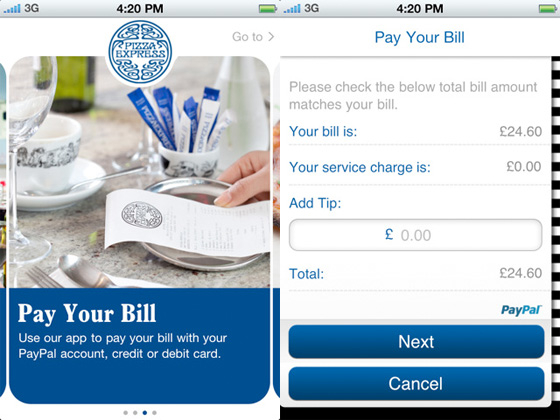 Paying with our mobile phones is nothing new though and various NFC swipe-style phone payment systems are beginning to appear.
Pizza Express is always trying to expand into the 21st century. Last year we heard how the company had launched specialist eating booths that reduce noise and include personal iPod docks.
When it comes to tech-specced cuisine, Pizza Express takes a lot of topping. Now the only dough customers have to handle over dinner will be covered in cheese and tomato.
If you ain't got an iPhone and you still forget all funds, you're well and truly stuffed crust.
Download the free Pizza Express app here. ®