Sony slips Skype on PlayStation Vita
Microsoft on call?
---
Sony is planning to bring Skype to PlayStation Vita, according to photos leaked online.
Shots of a Sony presentation in Sao Paulo, Brazil, were upped by GameGeneration and appear to show the Skype logo alongside various expected Vita features, including PSN, Wi-Fi and DLNA.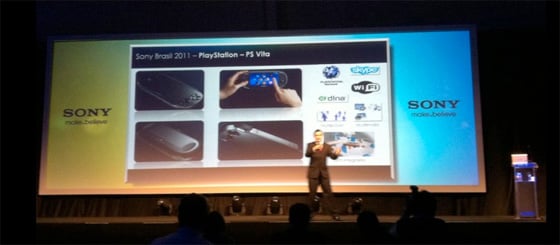 Source: GameGeneration
A Skype application launched for the original PSP back in 2008, however after Microsoft's recent acquisition of the internet telephone tool, it seemed an inclusion this time for the PlayStation Vita was unlikely.
At the time of acquisition, Microsoft stated that it "will continue to invest in and support Skype clients on non-Microsoft platforms".
If these pics are accurate, presumably the company will keep its word, even at the possible detrimental cost of improving its competitors products.
In more official PlayStation Vita news, Sony has put out a fresh trailer, showing off some of the forthcoming handheld's features. These include voice and text chat, online play and connecting socially with those in the vicinity. Check it out below.®