Cray, Fujitsu, and Hewlett-Packard all have similar and fairly large slices of the aggregate petaflops, too, with most of Fujitsu's in the K super, of course. IBM has 213 systems on the list (42.6 per cent of systems), compared to HP's 153 machines (30.4 per cent). IBM gained 13 machines over the November 2010 list, while HP lost five boxes. Interestingly, among commercial supercomputer buyers, IBM and HP have this market all but cornered. Of the 286 machines on the Top 500 list that are not at government-sponsored labs or educational institutions, IBM has 147 of them and HP has 133 of them, leaving only six other machines for other vendors to scratch each other to death for. On the entire list, Cray has 29 machines, Dell has 19 machines, and SGI has 16 machines.
Multicore processors are the norm for supercomputers these days, of course. Of the 500 machines ranked this time around, 212 machines uses CPUs with six or more cores, up from only 95 machines six months ago. Quad-core processors are on the wane, down to 231 machines from 365 on the November 2010 list. There are 387 machines using Intel processors, down a bit from 398 six months ago. Intel's latest "Westmere" Xeon 5600 and 7500 series of processors are used in 178 systems, more than triple what was on the list last November. AMD saw some gains, too, with 65 machines on this list compared to 57 machines a year ago. (Thanks mostly to Cray, but also getting some help from HP and Dell.) There are 45 machines on the list using one or another Power processor, up from 40 six months ago.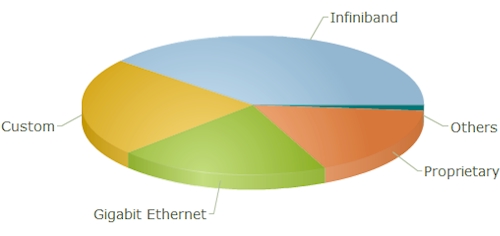 Top 500 super interconnects share, by system capacity not count
In terms of interconnects, Gigabit Ethernet, which is perfectly fine for a lot of embarrassingly parallel applications, is used on 233 machines, up from 227 boxes on the November 2010 list. Industrial companies, who don't have the somewhat unlimited budgets of government labs, favor Gigabit Ethernet network. Across all Top 500 installations, InfiniBand at its various speeds is used on 205 systems, down from 214 six months ago. But don't jump to the wrong conclusion. For some HPC workloads, low latency and high bandwidth do matter, and that is why if you look at the distribution of network protocols by the aggregate flops in the machines, InfiniBand networks are used on a total of 23 petaflops compared, more than twice the 11.6 petaflops on all of those Gigabit Ethernet clusters.
By geography, the United States had 256 systems on the June 2011 Top 500 list, down from 274 six months ago. Europe had 125 systems on the list, with 30 in Germany, 27 in the United Kingdom, and 25 in France. Asia is on the move though, with 103 systems, up from 84 in November 2010. China is the big builder, of course, with 62 machines, up from 42. Japan has 26 machines on the list, the same as last time. ®
Similar topics
Broader topics