Pics NASA has released new pictures taken by the space probe Cassini in orbit around Saturn, ringed titan of the Outer System. The pictures show the small trojan ice moon Helene in close up.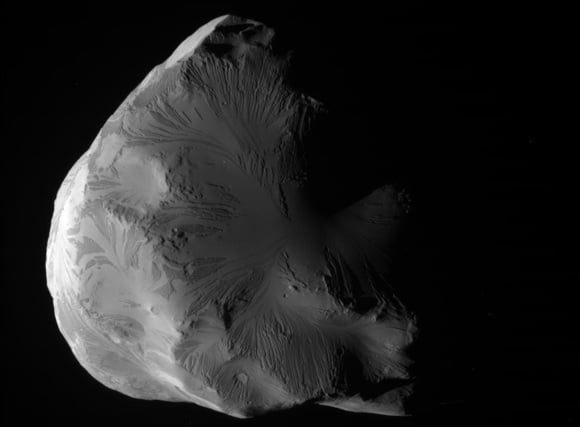 Interesting, but not enough to get more than a few spaceships launched so far.
This is the second close pass Cassini has made past Helene, and new views were gained as this time the Saturn-facing side of the icy moon was illuminated by direct sunlight rather than merely Saturn-light as was the case last time.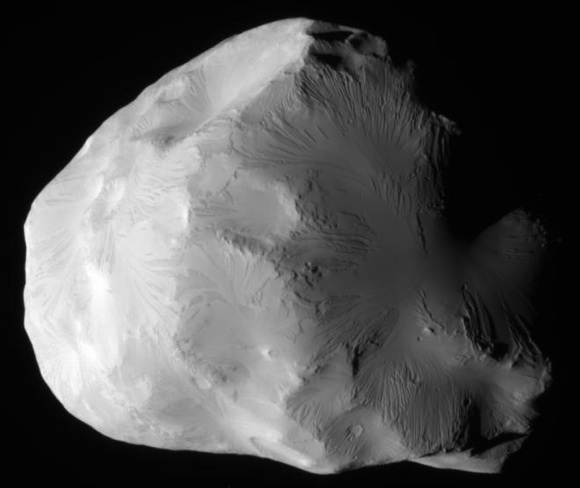 Would fit roughly into Rutland.
The small, irregularly shaped moon was named Helene after Helen of Troy, which is appropriate mythologically as the legendary beauty whose face launched a thousand ships against her lover's city was supposedly a granddaughter of the titan Cronus (Saturn, to the Romans). NASA's description of Helene this week as an "Ice Queen" is thus perhaps fair enough.
The name is probably a good one in astronomical terms too as Helene is a trojan moon rather than a regular one, sharing an orbit with the larger moon Dione but 60 degrees ahead in Dione's leading trojan point. Helene herself is just 20 miles across, very roughly the size of Rutland, say.
At its closest point of approach three days ago, Cassini passed within 4,330 miles of the diminutive moonlet. There are more images to be seen here courtesy of NASA. ®
Similar topics