Global semiconductor sales are rising despite the supply-change challenges poised by the Japanese earthquake and tsunami and the disruption of the PC market caused by tablets and smartphones.
The market-watchers at iSuppli goosed their April forecast on Tuesday, saying that things are looking brighter than previously thought. The researchers now expect worldwide chip sales across all types to rise from $304.1bn in 2010 to $325.9bn this year, an increase of 7.2 per cent.
That growth rate may be pretty anemic when compared to the 32.2 per cent rebound from 2009 to 2010, but that previous bounce was due to some very easy compares when the Great Recession let the air out of the market.
"Thanks to the hardiness of the global electronics supply chain, the semiconductor industry is set for a year of solid growth in 2011," explained Dale Ford, senior vice president for semiconductor market intelligence at iSuppli in a statement accompanying the stats. "Neither the Japan quake disaster nor weak economic conditions will derail the market's expansion. In fact, demand has been so strong for semiconductors in hot consumer items such as tablets and smartphones that IHS has raised its forecast slightly to accommodate the improved outlook."
The April forecast had worldwide chip sales rising 7 per cent flat.
The wireless and mobile chip segments of the semiconductor racket are going to be the big growth engines in 2011, says Ford, with smartphones, tablets, e-book readers, solid-state drives, and handheld game consoles being the biggies.
Wireless communications chips, which are used in many of these devices, are expected to rise by 17.6 per cent this year. The second-fastest growing segment is the industrial electronics segment, with a forecast of 7.3 per cent growth.
While iSuppli did not break out tablet-chip revenues , it did say that the boom in tablet computers will help the data-processing chip category to achieve 6.2 per cent growth, the third-fastest growing segment. While that's slower than the market overall, it could be worse. And if PC sales don't perk up in the back-to-school season, we think it might be.
Revenues for chips used in wired communications are expected to fall by 1.7 per cent this year, automotive electronics will grow by only 3 percent, and chip sales for consumer electronics will rise by only 3.1 per cent.
Here's how iSuppli reckons chip sales have risen and fallen in the past nine years and what kind of growth it projects for the next five: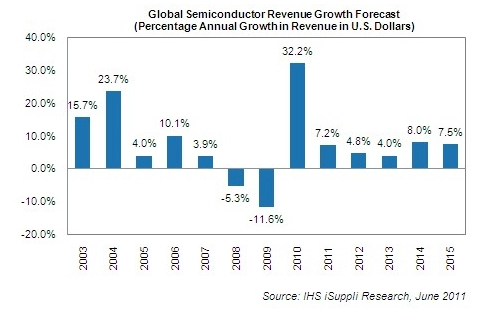 If it all pans out the way iSuppli expects, the global semiconductor market will hit $411.8bn by 2015, and will exhibit a compound annual growth rate of 6.3 per cent between 2010 and 2015. As you can see, iSuppli projects that growth will slow in 2012 and 2013, then pick up in 2014 and 2015.
Earlier this month, iSuppli rivals IDC and Gartner both cut their projections for PC shipments for 2011. PCs have historically been a huge factor in global chip revenues, but their influence is waning – we're now dependent on many different kinds of devices besides our PCs.
It's reasonable to expect that replacement cycles for all consumer devices will be extended a little – maybe a year or so – as we introduce one or two new types of devices into our lives. We'll have more devices and will make them last a little longer than perhaps we might have in the past.
Smartphones are often tied to a particular wireless services contract term, and the PC is the one upgrade cycle that we still control – well, right up to the moment when the PC drops dead. So in a pinch, the PC will probably take up the rear in the upgrade cycle.
That said, the net effect will be, if our scenario plays out, the same or more revenues for the chip industry as a whole. ®