Keep up at the back
Scanning food in and out is replaced by dragging icons on the fridge's touch screen display, which can also display weather information and notes from family members, or help you look up recipes - actions you're as likely to use your smartphone for.
The fridge may still be failing to live up to its potential, but fortunately some other devices are starting to make better use of connectivity. One that we've looked at before on Reg Hardware is the Withings internet scale, which can upload daily readings to the web.
And this year's evolution of Panasonic's IPTV front-end, VieraCast, into VieraConnect saw more fitness-related connectivity, including ICON's iFit application. With iFit and a treadmill, you can stare at the TV and imagine you're running around locations like Central Park, while your health and performance are monitored and recorded.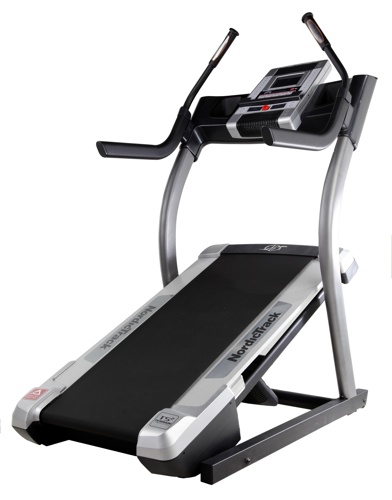 Internet connected treadmill: you jog, it logs
Using the TV as the basis of the connected home is also something on the agenda for 3View, whose set-top box includes a controller chip for the Z-Wave home automation protocol. So far, Z-Wave hasn't made a massive impact, and it might be about to meet its match too, thanks to devices like NXP's light controller chip, which is will allow every bulb in your home to be individually addressable over an IPv6 mesh network. If every device is capable of being addressed via IP, why invest in a separate home control system, whether Z-Wave, X-10 or anything else? Only connect
Internet appliances have been being hyped for over a decade now, and are still conspicuously failing to change the way we live. In large part, that's because the rest of the world isn't machine readable. Until there are tags embedded in almost about everything, many ideas will remain just that.
But, quietly and stealthily, alongside the overhyped kitchen appliances, there are connected TVs and Blu-ray players, not to mention other devices, bringing us information, entertainment, monitoring and remote control.
It may not be as revolutionary as many had hoped for a decade ago. But it's probably about all we're going to get for now. ®
Sponsored: Webcast: Discover and secure all of your attack surface