Amazon marries MapReduce with VM auctions
Bid for Big Data crunches
---
Structure Amazon has announced that you can now use its data-crunching Elastic MapReduce service in tandem with EC2 Spot Instances, unused EC2 virtual machines that company puts up for open auction. Spot instance prices fluctuate according to supply and demand, but these VMs can typically be used for less than the standard instance price.
Amazon chief technology officer Werner Vogels announced the marriage of Elastic MapReduce and Spot Instances Wednesday morning at the GigaOm Structure conference in downtown San Francisco, California. Introduced in the spring of 2009, Amazon's Elastic MapReduce is essentially the open source Hadoop MapReduce platform running atop Amazon EC2, a service that provides access to readily scalable processing power. Based on Google's proprietary MapReduce platform, Hadoop is a means of splitting data into tiny pieces and crunching it across many distributed machines.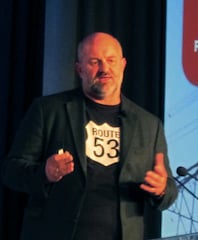 Vogels talks Spot Instances
In 2004, Google published a paper describing its proprietary MapReduce framework, and shortly thereafter, Nutch crawler founder Doug Cutting launched an open-source project based on Google's platform and its proprietary Google File System (GFS). He called it Hadoop after his son's stuffed elephant.
Amazon introduced Spot Instances at the end of 2009, and according to Vogel, they have been widely used by enterprises building what he calls increasingly "sophisticated" applications atop EC2. "[Spot Instances] have been very very successful in allowing application architects to think differently about the price they're willing to pay for a certain unit of work in a certain amount of time." Over the past few months, Vogels said, the combination of Elastic MapReduce and Spot Instances was one of the most requested updates to Amazon Web Services, the company's overarching collections of cloud services.
According to Vogels, you can run your MapReduce applications entirely on Spot instances, but you can spread it across other Amazon services as well.
Amazon is the most widely used of the public infrastructure cloud services, though it's unclear just how widely used it is. Vogels did say that each day, EC2 "infrastructure cloud" is spinning up enough virtual machines to run the equivalent of the Amazon's entire online retail operation circa 2000, when Amazon was a $2.78bn business. Its S3 storage service is now hosting nearly 339 billion objects, more than twice as many objects as it was storing last year.®