This article is more than 1 year old
Judge lets Apple keep secrets from Samsung
You show me yours...
The I sue you, you sue me spat between Apple and Samsung took a turn in the iPhone maker's favour this week.
U.S. District Judge Lucy Koh ruled against the Korean company's request last month for access to unreleased iPhone and iPad models, which it had claimed would be "highly relevant" to its defence case, according to Reuters.
Apple took a different view and its lawyers successfully argued this was an attempt to "harass" the company into revealing highly sensitive commercial information. Samsung's request was a counter-strike following a judgement instructing the company to provide information on its own forthcoming Android products for Apple.
In her ruling released late on Tuesday the judge wrote that, "Common sense suggests that allegations of copying are necessarily directed at Apple's existing products, to which Samsung has access and could potentially mimic, and not at Apple's unreleased, inaccessible, next generation products."
Nice try, Samsung. I show you mine, you show me yours isn't going to get you a quick flash of the next big thing in court, but hang around the bars in Cupertino and you never know your luck.
Apple's decision to sue its valued component supplier is in response to Samsung allegedly copying the look and feel of its mobile products. We covered the details with some spot-the-difference pictures in an earlier report here.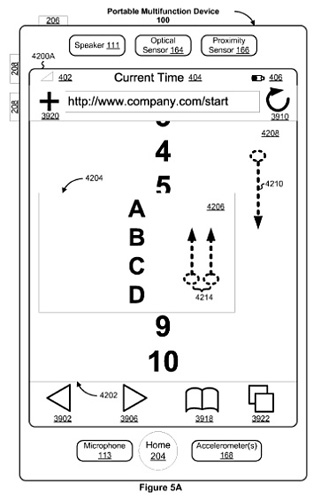 While the patent litigation rages on, Apple has also scored a direct hit today with the granting of its 2007 patent filing that focuses on the original iPhone's touchscreen navigation and multi-touch functionality, as reported on Patently Apple. Included in a wide range of patents granted to the company this week, was the Apple remote and the soon to be defunct Front Row user interface which is to be dropped from Mac OS X 10.7 Lion released next month. ®